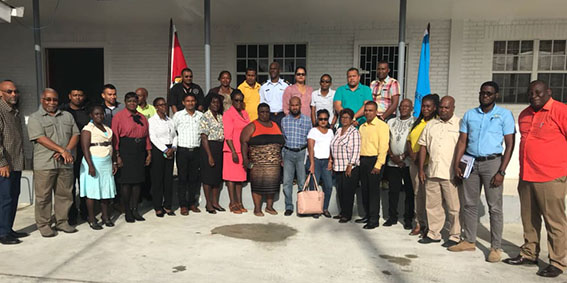 A total of 45 persons on Friday completed an Initial Damage Assessment course conducted by the Civil Defence Commission (CDC) in association with the United States Agency for Inter-national Development's Office of U.S. Foreign Disaster Assistance (USAID/OFDA).
The course, which was held at the CDC's Thomas Lands headquarters from April 10th to April 13th, saw participation from regions Two, Three, Four, Five and Six.
Given the fact that Guyana is susceptible to both natural and manmade hazards that can impact society, and as a result the government, through the CDC, is seeking to ensure that citizens in all 10 regions are equipped with the relevant knowledge and skills to impact decision making.
According to Lieutenant Colonel Kester Craig, who is the acting head of the CDC, the Regional Disaster Risk Management System is being implemented in all regions and Community-Based Disaster Risk Manage-ment at the community level in an effort to decentralise disaster risk management and enhance disaster response at all levels.
Additionally, the newly-trained regional officials and volunteers, who were presented with certificates on Friday, would now form the Regional Rapid Assessment Teams, which will be required to conduct assessments immediately after hazards to determine the damage and inform the appropriate response.
Clive Lorde, USAID/OFDA Disaster Management Specialist, who spoke at the conclusion of the course, noted that it provided the participants with tools as well as timeframes and the definitions of the different levels of damage.
The programme he stated falls under the Regional Grass Assistance program.
Lorde noted that of the 45 persons trained, there will be a minimum of 12 to 16 persons who would be selected to attend the "Training for Instructors Course," which he described as being far more intense. Once this course is completed, those selected participants who pass will move on to the "hand off" course, where they would have to teach the course to Lorde and other facilitators, to determine if they are equipped to teach the course to others in their communities.
Lorde stated that he looks forward to continual works with the CDC and the trainees to enhance the work in Guyana.
Around the Web