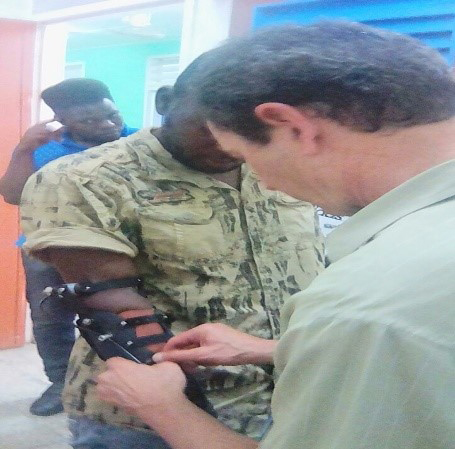 Four months after a work accident caused him to lose both hands, mechanical engineering student Melroy Pyle is one step closer to reclaiming his independence, after receiving prostheses from an overseas company.
Pyle, 37, was one of several to benefit from prosthetic fittings, thanks to a collaboration between the Ptolemy Reid Rehabilitation Centre's National Orthotic and Prosthetic Appliance Workshop and non-profit organization, Prosthetika.
Prosthetika, according to their website, fits amputees in underdeveloped countries who are otherwise limited in their options for acquiring limb replacements.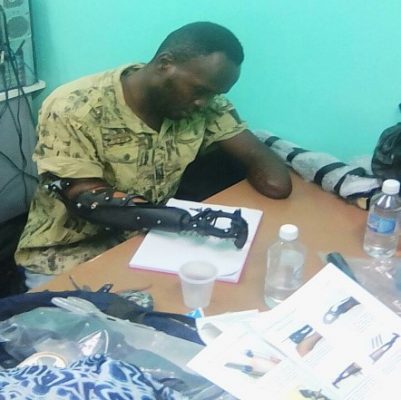 Pyle related yesterday that after his accident in December, he made contact with the Ptolemy Reid Centre and they indicated that a team was interested in providing assistance to the Centre. Photos and measurements were taken at the workshop, and last Wednesday, Pyle was fitted with the prosthetic arms for the first time, and for the next two days, time was spent learning and practising how to use the limb replacements.
The mechanical limbs now allow Pyle to carry out basic tasks, such as dressing himself and holding objects.
Pyle, formerly a construction worker, suffered electrical shocks when he came into contact with live wires while working on a building at the University of Guyana's Turkeyen Campus on December 18th, 2017. Within two weeks, one of his hands had to be amputated. He later had to have the other amputated as well.
The man, along with his lawyer, Mayo Robertson, had communicated to this newspaper their intention to pursue legal action in the matter, although no suits have yet been filed.
Around the Web