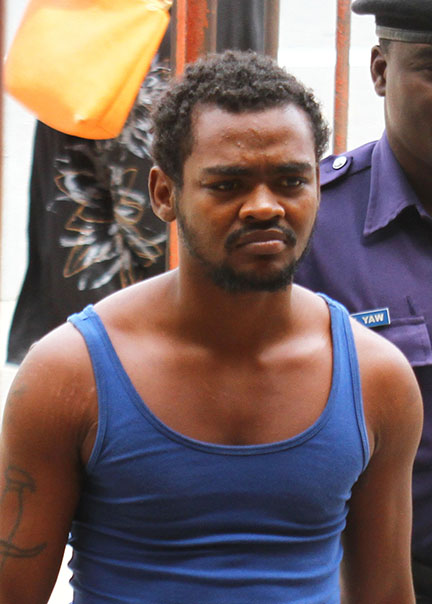 A Houston man brought before a city court to answer to charges of assault, damage to property and abusive language, claimed that he had been kept chained up in the house by relatives.
Kevin Christopher, 22, initially pleaded guilty to the four charges, but a not guilty plea was subsequently entered by Magistrate Fabayo Azore after Christopher explained his version of the events to the court.
The first charge against Christopher stated that he, on April 16th, at Lot 39 Houston Housing Scheme, unlawfully assaulted Melissa Balkaran.
It was also alleged that on that same day, Christopher used abusive language toward Usha Balkaran and Melissa Balkaran. Those charges were read separately.
The fourth charge alleged that Christopher unlawfully and maliciously damaged a table valued at $35,000.  The accused told the court that the complainants, who are his family members, are keeping him locked up in the house and he is unable to go out and work. He further claimed that his right hand had been chained to a table, and admitted that he used his left hand to hit the complainant to her face.
After a not guilty plea was entered on his behalf, no objections to bail were made by the prosecutor.
Christopher was placed on $30,000 bail by Magistrate Azore.
Around the Web