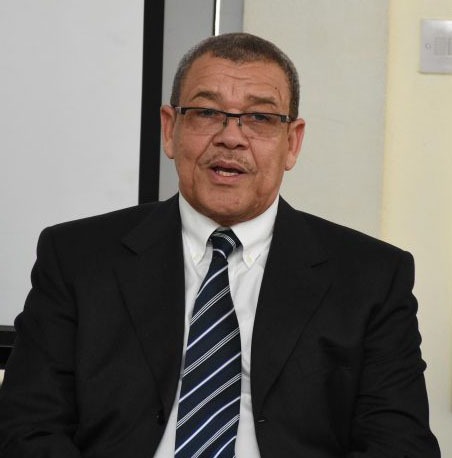 Acknowledging that the Guyana Revenue Authority (GRA) lacks the technical expertise to deal with audits in the petroleum sector, Commissioner-General  Godfrey Statia is moving ahead with plans to train his current staff even as he looks to the diaspora and other support in establishing a specialised unit within the GRA.
Statia has assured that by 2020, when ExxonMobil is scheduled to begin production, he will have a team capable of substantiating cost claims and other submissions made by the company.
"Yes, GRA needs technical experts versed in petroleum audit coupled with training," the GRA Commissioner told Stabroek News, when contacted.
Further, he noted, "GRA is setting up a special oil and gas unit to deal with the industry. It will be initially under the large taxpayers unit and then spun off separately in 2020."
An International Monetary Fund report has stated that the Production Sharing Agreement (PSA) with ExxonMobil's subsidiary, Esso Exploration and Production Guyana Limited (EEPGL)  is not only generous to the investor but that a series of loopholes exist, such as the treatment of interest expense, which could be abused and further limit benefits to Guyana.
During his recent visit here, British Professor of Economics and Public Policy, Sir Paul Collier, said he told the APNU+AFC Cabinet that strict oversight measures will be needed to monitor the accuracy of tax and cost submissions.  He also said that capacity building needed to be addressed.
"Don't assume that you can just trust them to pay the right amount of tax. They don't," he said, as he gave an example where a Nigerian Finance Minister had the books of oil companies in that country audited for the first time and discovered that about US$350M was owed.
"Build a specialist team that monitors the taxes. You monitor it," he implored while pointing out that a large number of persons was not needed to have an enforcement structure. He pointed to Norway where only about 40 persons are part of the tax enforcement body. "You don't need a big team… you don't need as many as 40 to learn the intricacies of the industry," he said.
With a bill for US$460M in pre-contract costs already submitted by Exxon's subsidiary and an estimated US$5B total payback figure for the Liza offshore wells  alone, questions have been raised by commentators and analysts on Guyana's ability to substantiate cost recovery figures put to it by Exxon.
Statia, a United States Certified Public Accountant, who has decades of experience in valuation and forensic accounting, will lead his agency in getting prepared to undertake audits of oil companies.
He announced that next week Monday, training of staff of the agency is set to begin.
Substantiated
"The claims will be substantiated through an audit process that GRA will do… I cannot tell you the process but training of the staff will commence by April 30th," he said.
Since the release of the contract with EEPGL late last year, the  APNU+AFC government has been lambasted for the generous fiscal regimes in favour of the company.
Government has said that it inherited the contract from the People's Progressive Party/Civic (PPP/C)  which signed it in 1999 and that it could not be changed.
But critics have argued that government signed a new contract in 2016 after a giant oil discovery had already been made whereas the 1999 PPP/C contract was clinched before the discovery of oil. Critics have further pointed out that contrary to the government's claims, significant changes were made in 2016 which included a US$18M signature bonus, an increase in royalties from one percent, which government would have had to pay, to two percent on the gross to be paid by the company and the increase in rental per year. The company then also only had a prospecting licence and was negotiating for a production licence.
 'Not excessive'
Minister of Natural Resources Raphael Trotman was satisfied with the Guyana Geology and Mines Commission's (GGMC)  feedback on the US$460M that it was not excessive and is in keeping with the company's scope of works over the 17 years of exploratory and seismic works.
He had pointed this newspaper to GGMC Head Newell Dennison to explain that agency's verification system.
Dennison said that typically in accounting arrangements for Production Sharing Agreements, pre-contract costs represent certain accepted expenditures by the company that have occurred prior to the signing of the agreement and that Exxon has to date submitted the US$460M invoice  for its geological and geophysical costs from 1999 to 2016, the point when the new contract was signed.
The US$460m will be deducted from the cost oil portion of the equation. A maximum of 75% of revenues will go towards cost oil each year while the remaining 25% (profit oil) will be split evenly between Guyana and EEPGL.
Within the remit of the GRA also, Trotman said, was the conducting of audits of invoices submitted by the company. He informed that for audits there were agencies responsible for different aspects of works under the contract and it is for this reason that one would see an overlapping of responsibilities and agencies when the Department of Energy is formed.
GRA's Commissioner-General, also a former practising attorney both in Guyana and overseas, was quick to point out that his agency will not get into the legalities of the contract as it has to abide by legal contracts the government entered into.  "GRA has to abide by legislation and by contracts the government makes with taxpayers," Statia said.
The one-time Deputy Head of this country's then Inland Revenue Department (IRD) which was later merged with the Customs and Excise Department to form the GRA is confident that with expert local and diaspora help, the GRA will be able to efficiently audit not only cost recovery.
The David Granger-led administration has said that it will not stand in the way of the GRA and will give the autonomous and constitutionally insulated agencies the full support they need.  "Government will not stand in the way of an audit. We don't believe that if GRA or the AG's (Auditor General's) office wants to audit we will stop them, we will welcome that," Trotman said.
Around the Web