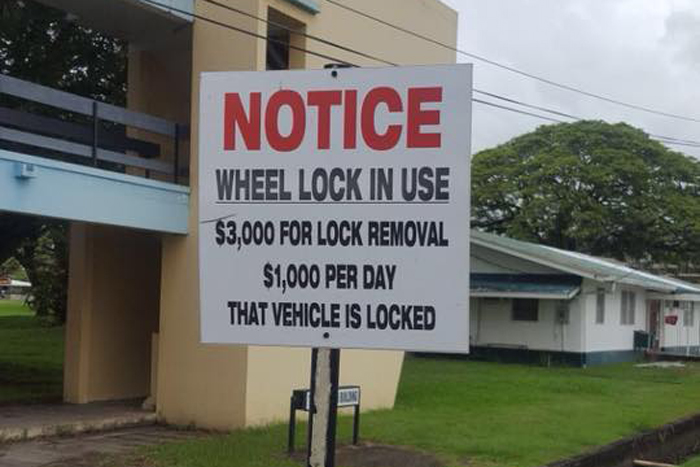 Although the University of Guyana's administration had registered through the media its intent to move to paid parking, students who turned up to campus yesterday, were surprised by a notice informing that wheel locks were "in use".
The sign–the only one placed so far according to reports—outlines the rates for the removal of wheel locks, stating that persons will be required to pay $3,000 for the removal of locks and $1,000 for every day that the vehicle is locked. The sign does not outline what violations will lead to locks being used.
Public Relations Officer of the University of Guyana Student Society Patrick Benjamin-Huntley, related to this newspaper yesterday that the UGSS intended the officially bring up the matter at yesterday's Council meeting, assuring that the issue would be addressed "at the highest level".
"Those signs are very ambiguous and vague; they give no time, no place where you're paying, nothing. This move has not even been broadcasted to the campus through SRMS," Benjamin-Huntley noted, referencing the university's records management system, which is used to broadcast messages to the student body.
When UGSS President Norwell Hinds had been contacted a few days ago to comment on the rumoured move to implement paid parking, Hinds had stated that he could offer no official comment as an official announcement had not been made. However, he had stated at the time that the university has a responsibility to consult with the relevant stakeholders before making decisions.
Around the Web