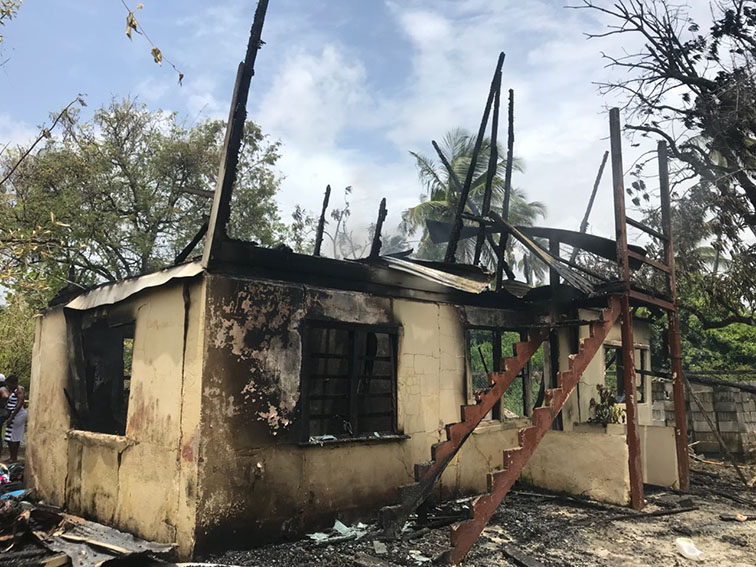 A city constabulary officer on Thursday saved his one-year-old son from their burning house during a fire at Nabaclis on the East Coast of Demerara.
The early morning fire which gutted the two-bedroom home of Royston Valentine, started sometime around 8.30 am leaving five persons homeless.
When the fire started, Stabroek News was told that neighbours responded immediately after Valentine sounded an alarm. They were prevented from assisting as the fire quickly consumed the building. The fire service responded approximately 15 minutes after being summoned and battled the fire.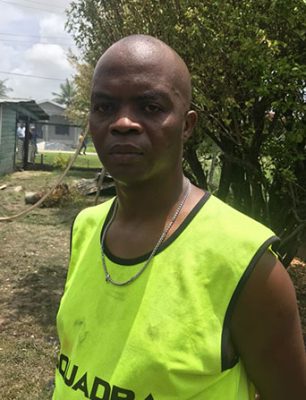 Valentine, 38, one of the occupants of the home said he was in the bottom flat of their Lot 63, Nabaclis, Sideline Road, ECD home when he heard unusual noise in the top flat of the house.
He explained that he found the noise strange since neither his sister Beverly Valentine nor his mother Doreen Valentine, who occupied the top flat were at home.
"All I hear Bodoom! Bang! Bam! And I want to know what was happening upstairs. I know nobody was there so I went and check and while I was going I see smoke coming out the window," he explained.
The father of one explained that he rushed up the stairs and upon opening the door, "all I hear is Boof!  And I see the entire upstairs in fire."
"I run down back and grabbed my son and run out and called for help but we couldn't have done anything. The fire was too big. We just had to wait for the fire service. They didn't take long to come," Royston noted.
The fire service, he noted, spent about forty-five minutes battling the fire. Stabroek News understands that the firefighters did not encounter any hindrance.
Royston said that when the water from the fire tender was exhausted the firemen quickly sourced water from the trench in front of the house and continued battling the blaze.
Despite this, the man said he was unable to save any items from the fire. He said that both flats of the concrete and wooden house were furnished with modern amenities.
Royston's wife, Camille Valentine, a Massy Security Guard also resides at the residence.
The Valentines said they are willing to accept any assistance from the public. Persons desirous of offering any help to the family can contact them on 680-1742.
Around the Web