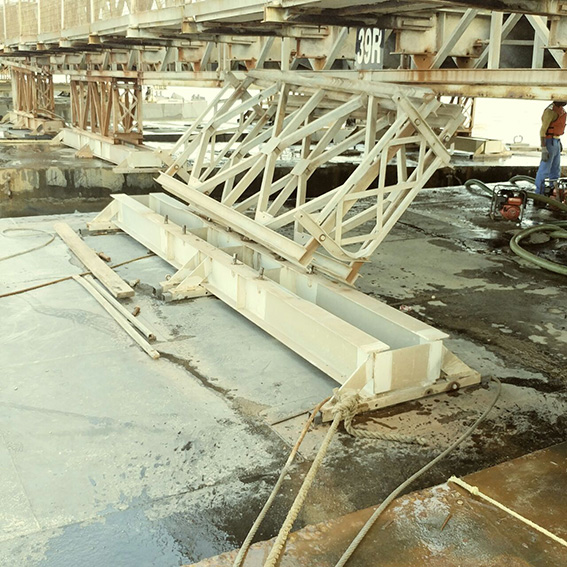 Motorists were left stranded for about two hours yesterday after an out-of-control barge laden with stone crashed into the Demerara Habour Bridge causing serious damage to the structure.
Engineers have since managed to temporarily rectify the situation and repair works are expected to resume today.
Following the incident the Demerara Habour Bridge Corporation (DHBC) in a tweet advised the public that all laden motor lorries, canters and tractors will be "restricted from transiting the bridge until further notice" and apologised for any inconvenience this may cause.  There was no explanation as to what caused the restriction.
Stabroek News was reliably informed that just before 3pm a loaded barge was coming down the river when something apparently "hooked the propeller" resulting in it crashing into the pontoon at span 39 causing damage to piles and two pontoons to shift.  It was explained that the pontoons are what are used to keep the bridge afloat and because of the accident that section of the bridge had no support thus the decision to stop traffic.
This newspaper was told that the person who owns the barge will have to compensate the DHBC for the damage which will run into millions of dollars. Stabroek News was told that engineers attached to the bridge executed whatever repairs they could have to accommodate light traffic.
Meanwhile, a motorist who lives on the West Bank said the incident underscores the importance of having a second bridge. She recalled that sometime after 3pm while crossing the bridge to head to Georgetown she did notice the barge and a man who looked like a motorist taking photographs. She said that she thought nothing of it until she arrived at the bridge a few hours later on her way home. She said she met long lines of cars totaling about a hundred waiting to cross. She said that she spent more than an hour in the line before she was able to cross.
The motorist lashed out at the policemen at the 1.15 miles-long bridge noting that they were standing around and bracing on barricades and made little effort to direct drivers.
This newspaper understands that a pregnant woman in labour was trapped at the other end and it took some prompting before the police allowed her to cross over.
Around the Web