President of the Guyana Women Miners Organisation (GWMO), Urica Primus and President of the Guyana Gold and Diamond Miners Association (GGDMA), Terrence Adams yesterday signed a two-year fiscal concessions renewal agreement with the Government of Guyana.
A release from the Ministry of Finance yesterday said that this agreement boasted several firsts:
1. It was the first time that the GWMO signed the agreement as an individual entity;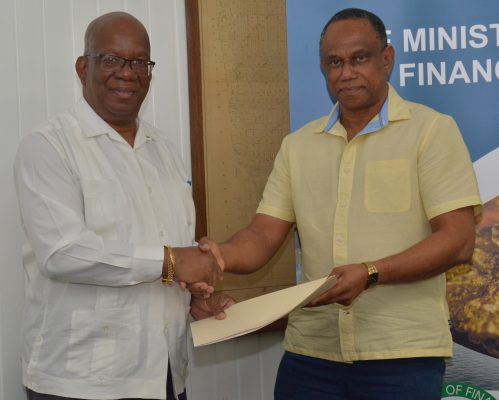 2. For the first time, the agreement has been renewed for a two-year period rather than annually, and
3. The fiscal concessions granted are tied to various levels of declarations.
The release said that the other signatories to the agreement were  Winston Jordan, Minister of Finance; Godfrey Statia, Commissioner General, Revenue Authority (GRA); Newell Dennison, Commissioner General, Guyana Geology and Mines Commission; and Dr. Mahender Sharma, Chief Executive Officer, Guyana Energy Agency. Also present at the signing ceremony was Raphael Trotman, Minister of Natural Resources.
Jordan in brief remarks said that, "The agreement is the third that has been signed by Government but that it was more comprehensive and was accomplished through evidence-based negotiations." He also said that it comes on the heels of other budgetary measures that were put in place as a mark of the Government's support for the sector.
The release said that the mining sector has benefited from significant interventions, since 2015, by way of tax concessions on machinery, equipment, fuel and vehicles for small and medium scale miners; a lowering of the Tributor's Tax from 20% to 10% and a sliding scale percentage based on the price of gold, which replaced the 2% of gross proceeds. Further, more than $1 billion was allocated in the 2018 Budget for the upgrade of key roadways in the Hinterland.
Around the Web