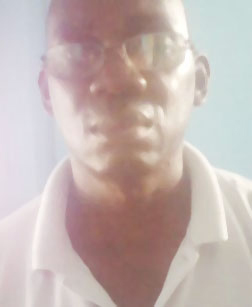 An Anna Catherina man was yesterday remanded to prison after he was charged with causing the death of Garfield McPherson during a car accident on Sunday.
Delon Dublin, 28, of Lot 78 Anna Catherina, was read the charge by Chief Magistrate Ann McLennan.
The charge alleged that the accused, on May 6, at Land of Canaan,  drove motor car PRR 6380 in a manner dangerous to the public, thereby causing the death of McPherson, a guard at Federal Management Systems (FMS).
Police prosecutor Gordon Mansfield told the court that on the day in question, the accused was the driver of motor vehicle PRR 6380, proceeding on the Land of Canaan Public Road at a fast rate. He added that at the time, the accused had two other passengers in the vehicle, and while in the vicinity of the masjid there, Dublin lost control of the vehicle and ended up in a nearby trench. Mansfield added that the accused and the two other passengers suffered injuries and were rushed to the Diamond Diagnostic Centre where McPherson was pronounced dead.
The court heard that the file in relation to the matter is incomplete.
Doblin, a driver employed at FMS, was then remanded to prison.
He is set to make his next court appearance on May 21.
Around the Web