Forty-year-old Lloyd Green was yesterday sentenced to 10 years in prison for the stabbing death of his brother-in-law with whom he had previously had a fight.
Initially indicted for the capital offence of murder, Green pleaded not guilty, admitting instead to the lesser offence of manslaughter for the unlawful killing of Earl France on April 26, 2009 at Laing Avenue, West Ruimveldt.
The prosecution's facts presented by state counsel Lisa Cave, stated that on the day in question the two were involved in a fight.
Some moments later, the prosecutor said that the accused was seen running towards France with a knife.
The court heard that as a result, France, of Vryheid's Lust, East Coast Demerara, armed himself with a brick in a bid to protect himself, but was nonetheless stabbed by the accused.
He was thereafter rushed to the hospital where he was pronounced dead.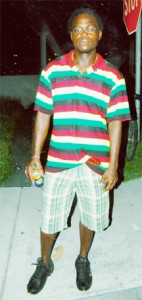 An autopsy revealed that he died of shock and haemorrhage due to a stab wound to the heart.
Begging for leniency and mercy, defence attorney Adrian Thompson asked Justice Sandil Kissoon to consider that his client had pleaded at the first given opportunity—thus saving the court considerable time in otherwise having to conduct a trial.
This, he said, was indicative of his client accepting responsibility for his actions.
Thompson also asked the judge to consider the nine years that his client had been behind bars awaiting trial, advancing that the length of time contravened his constitutional right to a fair hearing "within a reasonable time."
Begging for leniency on his own behalf when given a chance to speak, the soft-spoken Green said that the act was not premeditated.
He said that France and others would often trouble him, but noted that he was sorry for what he had done.
Before handing down the sentence, Justice Kissoon said that the case presented two tragedies—the senseless killing of the victim, and the nine years the accused had been incarcerated which he described as "despicable and inhumane."
He commenced sentence at a base of 30 years for which he said the law stipulates for manslaughter.
The judge thereafter deducted nine years for time spent on remand, noting that the case should have come up for hearing much earlier.
An additional eight years for what he said were the particular facts and circumstances of the case, coupled with consideration for Green's early plea and acceptance of responsibility for his wrongdoing were also included in that deduction.
From the remaining 13 years, a further three years were deducted for the mitigating factors presented on behalf of Green, as well as his own expression of remorse.
Around the Web