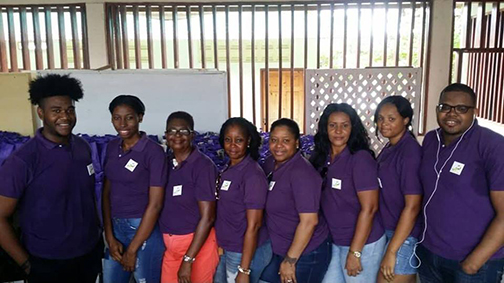 Faced with Linden's youth concerns of the high unemployment rate coupled with the lack of recreational facilities, the not-for-profit organization, Linden Dream Team (LDT) is working towards bringing to the mining town a state-of-the-art facility geared at educating while providing leisure options to youths.
"Our long term goal is to open a Linden Youth Centre where we will have a state-of-the-art facility, an engine of growth, some place safe, where youths can come together and pursue educational and other skills, while having recreational amenities," Chairperson of the LDT, Donette Adams told Stabroek News in an interview.
In the wake of the recently concluded Linden Town Week observances, Adams sat down with this newspaper and explained that the charitable organization is an outgrowth from the United States-based Linden Fund (LF) and that it undertakes ten days of charitable exercises during the Linden Town Week activities. (While the event is named Linden Town Week, activities are planned over a ten-day period).
The LDT is largely funded through contributions from Guyanese in the Diaspora, especially Lindeners, and it plans to recruit more resources to ensure that the facility is built, and programmes rolled out to foster the development of Linden's human resources.
"The organization's mission is to continually aid in the redevelopment of Linden. We do that through different educational programmes. We want to be a part of redirecting and shaping the youth because we speak of being change agents and we want to lead by example. LDT wants to show them that we and many others have been in their seats, and we know their potential and they can make that difference in their community and that through education and hard work anything is possible," Adams posited.
She continued, "It is important for the youth to know the importance of an education, because once you have that, you are equipped to bring yourself and the community, and by extension the country, that holistic development needed. You can take away material things from a person, but you cannot take away education, and having a facility similar to the US' Boys and Girls Club of America can help in giving them that."
The young Chairwoman of the organization suggested that even if they were equipped with the most modern facilities, the youth of the community would still need to exhibit the willpower and the drive to turn the ideas into reality.  Otherwise, the cause will be futile.
Given the numerous lamentations the group received while executing programmes over the course of its existence, she believes that the will is there. "When you hear from the kids of Linden of how they see their community and what they think is happening there, you are moved to tears. There is nothing constructive to do, they don't have outlets of a positive nature, there are no jobs, there is the lack of community support, so they take to hanging out on the streets and smoking and that kind of thing," Adams observed.
"These are kids who want to do better and some don't have even a role model to look up to. We had a session with some of the kids and could not believe some of the things we heard. You hear of abuse in the home, [the] hopelessness that some feel that they have become invisible to world," she added.
Adams knows that the effort to raise enough funds for such a facility will take time, so the organization keeps focused on maximizing the currently available resources while planning for the construction of an 'After-School' recreational and educational facility.
She explained that several programmes were rolled out in schools at Linden, with this year having an additional day of fun and sports for differently-abled children.
"The reason why we are a part of the special needs community is because there is this stigma attached and you have families and parents ashamed of their children or keep them home, because they feel they won't receive the care and attention that they need. We have to change that. We understand what it feels like and what it looks like to be different, so we host this event. The kids come out and the community can see and appreciate their uniqueness and understand that they may just require different access. "
Another activity being undertaken is the Rising Star Essay Competition for children, from five through eighteen years, where the winners receive prizes such as school grants, laptops, and bicycles. The essays are sent to the US, where a former Guyanese teacher grades the scripts and returns them with the participants' scores. Social activists Diane Madray and Joy Gravesande have augmented the prize pool and are offering the essay winners the opportunity to travel to the USA during the summer to participate in a summer camp.
However, there were instances when the group met 'moulders' (teachers) of the students who demonstrated no interest in having their charges participate in the activities.
"There is this stigma in Linden that MacKenzie High [School] is the best, and if you did not go there you are not worth anything.  We go to schools and I am telling you there are teachers that say to us, 'Oh, these kids can't write no essay, so it makes no sense coming here.'  What they don't understand is that it only speaks of their characters as teachers. Some will not ask for help on how they can make the project more attractive to the students, or how they can themselves be helped. It can be heartbreaking, but we press on and beg them to give them (the students) the opportunity to apply," the LDT Chairperson related.
A raffle is also drawn for monetary subsidy provisions for students taking the Caribbean Examinations Council examinations.
Mentorship
And with a number of young males lamenting the lack of male role models, the 'We rise beyond' mentorship programme was launched this year to inspire and motivate youths, especially males, within Linden.
"The programme is co-ed, but it is actually more for males than females. We hear the girls are becoming empowered, but there is a lack and little being done to empower young men. Having both male and female we get to make better decisions, but we are focusing heavily on the males. They feel left out and are the ones that plead for help in acquiring skills to make a difference in their community.
"We want to bring in males to talk to them and share with them, to let them know that they are the change they want, and it is possible to be what they want to be with education. We are getting male mentors to speak to the young men, give them moral support and assure them that the organization will work with them. Life does not have to be smoking or liming on the streets, there are many persons from Linden leading the way all across the globe," Adams posited, even as she shared her uncle's experience.
The chairperson draws much of her inspiration for her charitable work from her uncle, Vincent Adams, who in addition to being an engineer, is himself deeply involved in charitable giving.
Speaking to this newspaper in a separate interview (Sunday Stabroek February 4th, 2018), Vincent Adams recounted  that he had come from a very humble background, growing up in Christianburg, Linden, which in his view, was one of the most poverty-stricken areas of Guyana.
"I was able to make it in life only because I was lucky to have a proverbial "village" of the right people, at the right time, around me. I live every day with a burning passion, and with a feeling of deep obligation to give back to not only my native land which laid the foundation for whom I have become, but also to use my high office in the US to help the poor, especially when it comes to the young. My biggest motivator was the fact that my mother couldn't read nor write – something that lit a silent flame inside of me to succeed in whatever I do," he said, sentiments echoed by his niece.
"I still pinch myself to believe it's real that I could have come from the alleys of Christianburg to: reaching the highest rungs of the academic and professional ladders, playing cricket for Guyana as a teenager, reaching the highest levels of the US Government as a member of its Senior Executive Corps, which runs the day-to-day operations of the nation, representing the US Government, internationally, including being the US Consultant to the International Atomic Energy Agency of the UN; and Chairman of two major International Science & Engineering Conferences attended by over 50 countries, Chairman of one of the largest and oldest international professional engineering bodies, being accorded several distinguished awards including the prestigious 2012 President's Award for contributing the most to education in the State of Ohio and most importantly, being in a position where I can give back in service to the People of Guyana, if called upon," Adams shared.
The Linden Dream Team Chairwoman said that while her uncle does not boast of his charitable contributions to the Linden community, she has seen him over the years working fervently to bring medical and other teams here for outreaches in Linden. He has also taken much of his own finances to fund many of the programmes undertaken by the Linden Fund and it is why she herself does the same for her organization.
"We will not stop. We know that we can make a difference for the youth in Linden and whatever it takes we will make that difference," she said.
Around the Web