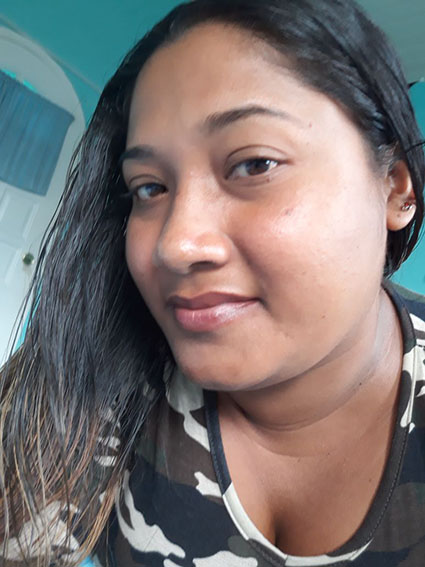 The village of Baramita in Region One has elected its first woman toshao.
The election of Sharmain Rambajue as Baramita's village captain comes as the elections for toshaos are underway countrywide.
The elections began on May 15 and are scheduled to end on June 15.
Rambajue, 32, told Stabroek News yesterday that she contested the elections for the betterment for the Carib people of Baramita. She won from a field of four candidates, comprising another woman and two men.
Baramita, in the Barima/Waini region, has a population of about 3,500 people. Fourteen councillors have also been elected to support Rambajue and to serve the 22 satellite communities that comprise the village.  
"The people really need somebody who have an interest in them. I am happy to work along with the people and the councillors who have been elected," she told Stabroek News by cellphone. Rambajue campaigned under the theme, 'A Fresh Face, A Fresh Start – Development for all of Baramita.'
Her objective, she said, is to bring all the satellite communities together toward a common development goal.
Her main focus is social development, followed by education, economic development, health care, security, cultural development and sports.
Social development is high on her agenda because of the many social ills that plague the community, which is dependent on gold mining.
She wants more community work done by residents and non-residents to work to reduce littering and pollution and to provide guidance and counselling for mental health problems. She also wants to stage workshops, meetings and home visits to discourage the abuse of alcohol and drugs. Alcohol and drug abuse are common among both young and old residents.
Rambajue also plans to build a shelter to care for the elderly who are unable to care for themselves, and to educate residents about the negative consequences of domestic violence, trafficking in persons, child abuse and sexual abuse.       
Rambajue, who has had only a primary level education said, "I would like to see a secondary school in Baramita so children do not have to go to Matthews Ridge, Port Kaituma, Mabaruma or even Georgetown, to get a secondary education." The transition from the community, she said, could be disruptive to a child having to settle into a new environment away from their parents and siblings.
At present, she said that the community has one school building, which houses both nursery and primary schools.
She would like all school-age children to be registered and attending school, and she wants the schools to be adequately staffed. At present they are not.
Her health care plans include upgrading the health centre to a cottage hospital and having a doctor stationed in the community.
She will also lobby government, she said, for a dentist to visit the community regularly. Hygiene is an issue, and she will also seek assistance to construct proper toilets for each household.
Security of the community and the country's borders, she added, is also a matter of concern. To safeguard the village's border with Venezuela, she is encouraging residents to report any suspicious activities to the village office so they could be reported to the police.
It is necessary to monitor the movements of foreign nationals, such as Brazilians and Venezuelans entering the village, she said. Actions have to be taken against illegal activities and exploitation of residents by foreigners, she said.
Amid reports of widespread sexual violence, suicides and alcohol abuse, an inter-ministerial task force visited Baramita last year.
Around the Web