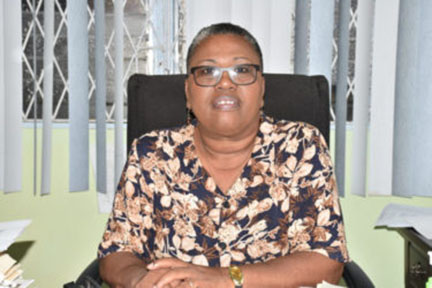 The Child Protection Agency (CPA) has taken into its care a 13-year-old child alleged to have been  impregnated by her stepfather and is monitoring the medical progress of another 10-year-old girl who was brutally raped by a relative.
Head of the Agency, Ann Greene told Stabroek News yesterday that last week "was a trying and hard one" for her and her employees as the amount of cases received was distressing but they are working relentlessly to bring assistance to the abused children.
This newspaper understands that the police are also investigating the possible suicide of the implicated stepfather and are awaiting an autopsy report on the man which is scheduled to be performed tomorrow.
A relative of the child said that the 13-year-old had long complained about being sexually abused by her mother's live in boyfriend but her pleas fell on deaf ears. The now close to six months pregnant child had been left in the care of the man when her mother went to the United States, staying there for an extended period.
Upon the mother's return, the relative said the girl complained to her that the abuse had increased but was dismissed.  Pregnant and unable to stand the torment anymore, the child confided in one of her school teachers who immediately called in the CPA.
Her relative said that upon hearing that the authorities had been notified, the man bought a poisonous substance and went to a nearby cemetery where it is alleged he drank it and died.
Greene informed that that CPA cannot pronounce on the police aspect of the investigations but her agency is awaiting the post-mortem tomorrow before it decides on how it will notify the child that the man is dead.
She was quick to point out that at this time the CPA's primary concern was getting the necessary counseling and medical help that the young girl needs as she has not had any ante-natal treatment and doctors who recently examined her have categorised her as a high risk patient.
"It is so hard on these children, it is very traumatising on this child that you cannot imagine. We are getting her counseled and getting all the medical treatment and examinations and tests and those things that are necessary…," Greene said.
The CPA head noted that even as the agency and the Guyana Police Force (GPF) recently strengthened their partnership though workshops and discussions, it was still difficult to deal with the numerous cases that are highlighted with last week being "one of the worst".
She informed of the case of a 10-year-old girl who is now hospitalised after being brutally raped by a relative.
The child had to be rushed to a city hospital to undergo emergency surgery and is currently being monitored.
But the two cases are not unusual to Greene and her team as she said it is what workers of her agency have to deal with daily and it is why she is advocating education and sensitization exercises on noticing and reporting child abuse countrywide.
"Like I said, last week we had a really hard week. There were several cases…a lot of things are happening. We can hardly leave for home in the afternoon, with the amount of things that are happening to our children some nights we are here until 11[pm]," Greene said.
"The thing is, child abuse will always be with us, but 90% of cases are preventable and will be preventable. We have to work toward the preventing of child abuse. We are appealing, we are reaching out to communities and are begging citizens to do something. If you know and you see something suspicious please report it. Don't wait until the end and then say you had suspect or had known this or that. Do something so we can prevent abuse. We are working to build partnerships, we want those partnerships with communities' that we can prevent child abuse," she added.
And it is for the building and strengthening of partnerships that saw the agency and the GPF last week bring from around the country, station sergeants for a workshop.
Greene explained, "A lot of the times we have to bring in the police for the cases we have so we had a session with the police. We brought in all the station sergeants from around the regions so we can do some partnership development. This is so we can get more positive outcomes for families." 
"We are feeling good about that and you know it was an intense two days. But from our preliminary reports and feedback they said they [the police] have got it now, so they have a better understanding of what is happening with children and how we can prevent abuse," she added.
She is calling on adults across the country to join in the fight to protect children even as they empower them to learn what their rights are and how to identify abuse and report it. "We all have to help," Greene stressed.
Around the Web