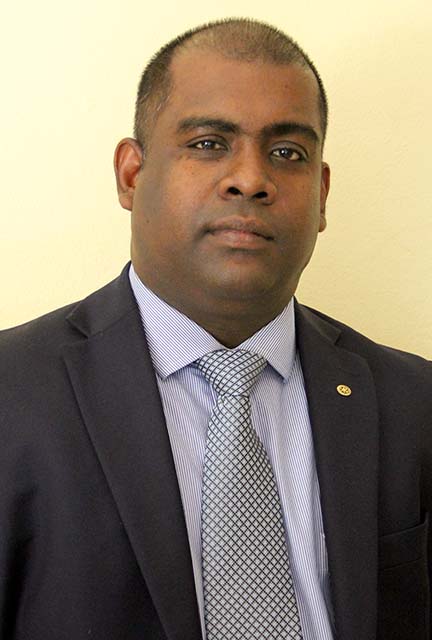 If Ramesh Persaud, Chief Executive Officer (CEO) of the Institute of Private Enterprise Development (IPED) were to invest in any sector right now, it would be in agriculture and, specifically, in fruits, vegetables and livestock because of opportunities in viable local and Caribbean markets.
"I was told by one institution the other day that they can buy any amount of fruits and vegetables that can be produced locally and they are willing to pick them up at the farm base," Persaud, the guest speaker at Tuesday's luncheon session of the School of Entrepreneurship and Business Innovation's Inaugural Entrepreneurial Conference at the Ramada (Georgetown) Princess Hotel said.
"Livestock, both beef and mutton, have tremendous opportunities out there," he continued. Both the Jamaica and the Trinidad and Tobago markets, he said, are "not being fulfilled. Those are opportunities."
Guyana has the land and the people who could make the investments once they comply with production standards and meet phytosanitary certification for export, he added.
Asked about IPED's corporate social responsibility in terms of helping young people develop entrepreneurial skills, Persaud said that IPED in collaboration with the Inter-American Development Bank and other donor agencies had over seven years ago selected 900 young people, between the ages of 18 and 35, who were interested in entrepreneurship, for funding of their business ideas.
They were subjected to 16 three-hour sessions on the principles and ethics of business, and were even given a pilot business project to run. The programme ran for three years and ended about four years ago. Of the 900, he said, only three have remained operable. Most of those who were involved in the project ended up as employees instead of being employers.  
IPED has learned from the experience, he said.
"Too many young persons in Guyana see business as second jobs," he said. "They are doing it because they did not get a job, or they were unable to be recruited. They are doing it because they cannot do better," he added.
Those who have been successful in business, he noted, did not see it as a second choice. "They are doing it because they are passionate about it. Those are the young people who are successful because they conceptualise a business and they believe in what they are doing. They work very hard to make that possible. They are the ones who believe in providing a service that the market requires."
Six percent of IPED's clients are younger than 30-years-old, thirty-five percent are women and the majority are men, mostly because men undertake agricultural jobs.
The lack of entrepreneurship, Persaud said, inhibits transformation of economies and innovation more than the lack of access to capital, labour and land. Entrepreneurship is a skill, he said, that can be learned and a mindset that can be cultivated.
Asked about the types of businesses that IPED funds, Persaud said, "In my opinion, they are not ones that require significant entrepreneurial capabilities. They are mostly the run-off-the-mill type of operations."
Thirty-five percent of loans are taken by rice farmers, 15 percent are taken by other general agricultural farmers and 30 percent is in the retail/trading areas.
A lot of people do not know, he said, "that 72 per cent of the loans that we process in any one year is not processed with any real estate collateral."
People also do not know, he said, that clients are not pressured to present a business plan. There is a standard interview process that asks a series of questions and the answers will indicate whether the interviewee understands the business.
"You have to prove that you have the technical expertise and you will be involved in the business full time," he said. 
Since IPED opened its doors 32 years ago, he said, it has disbursed 110,000 loans at a value of more than $35 billion with a repayment rate of 97 percent.
"We only take part in two percent of value financing to enterprises in Guyana meaning that if you lend one hundred dollars we only lend two dollars. This small droplet of support is still sufficient to support 4,000 small and micro-enterprises and 10,000 employees nationally," he added.  
Around the Web