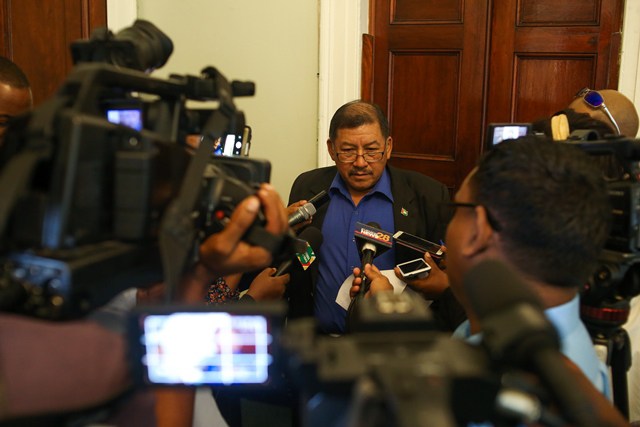 Government's handling of the Amerindian Land Titling (ALT) process is not about money but it is about time, personnel and equipment, Minister of Indigenous Peoples' Affairs Sidney Allicock told a parliamentary committee yesterday, acknowledging that only a quarter of the money available has been spent.
"The situation is not money. It is time and manpower. It is time consuming," Allicock said. However, committee member Opposition MP Pauline Sukhai retorted, "He has no problems with money but he has problems with execution. That needs to be corrected."
Allicock's and Sukhai's comments were made at yesterday's meeting of the Parliamentary Sectoral Committee on Natural Resources at which Allicock answered questions on a status report on ALT.     
On funding and what appeared to be a lack of progress in the extension, demarcation and titling of Indigenous Peoples communities, Allicock said, of the US$10.7 million provided by Norway via the United Nations Development Programme  for issues discussed, 25 per cent of the funding has been used. The project began in October 2013 under the former PPP/C administration and was originally due to end in October 2016.
Sukhai expressed concern that a lot of money has been spent with "nothing" to show and the project will come to an end with not much achieved because of poor implementation.   
The funding was made possible under the Guyana REDD+ Investment Fund (GRIF), established after Guyana and Norway signed a memorandum of understanding in 2009 for Guyana to receive US$250 million in performance-based initiatives by the end of 2015.
Following Allicock's report on the 13 new communities applying for absolute grant of title for the first time, 23 villages with absolute grants for demarcation only, and 32 villages seeking new extensions applied for before the start of the ALT, committee member and Opposition MP Yvonne Pearson said, most of the villages in which demarcation was marked as completed were done under the People's Progressive Party/Civic administration and were all awaiting approval since 2014 and 2015.
In response, Allicock said, "The ALT is not at a standstill." All 45 investigations conducted in villages for demarcation have been completed. "We are not stagnated. The ALT is moving forward. It is not an easy job," he said.
For example, he said, surveying of Karasabai Village, one of the largest villages in the South Pakaraimas, was done twice but not to the satisfaction of the people. They were done wrong and the surveys had to be done a third time by the current administration in keeping with the Free Prior and Informed Consent (FPIC) principle, he said. "We had to do it over again."
Many demarcations done previously, he said, were not to the satisfaction of the indigenous communities, such as boundaries not in keeping with their requests, and demarcations had to be corrected. The FPIC and the corrections, he said, were time consuming.
As the status report provided no dates on communities applying for absolute grants, completion dates of demarcation and dates that certificates of title were issued, and Allicock could not provide the information, he said he would provide it in writing. 
At one stage of the inquiry, because answers were not forthcoming to the satisfaction of the Opposition members, the meeting was interrupted by an exchange between committee member and Opposition MP Neil Kumar, committee chairman and Opposition MP Odinga Lumumba, and committee member and Government MP Joseph Harmon.
Kumar at one point objected to Lumumba "shutting us down" when seeking to ask questions which to him were straightforward and relevant to the subject under discussion. Lumumba replied, "The minister has said clearly that he cannot answer those questions at this point in time." Kumar shot back, "He never said that." Lumumba replied, "He ain't said that? Where you sitting?"
Lumumba said, "The minister has not answered directly to any of your questions so far. It is my understanding that he is incapable of answering them today. If you want you could keep asking the same questions. I am not shutting down anybody. I have said to them put it in writing as to status of each community."
Objecting to Lumumba's statement that the minister was incapable of answering the questions, Harmon said, Lumumba was not correct. The minister, he said, answered the questions and they were not satisfied with the answers.
"I would really wish that, that statement that the minister is incapable of answering these questions should not be recorded," he said.
Harmon suggested that the meeting move forward with the remaining pages of documentation that the meeting had to yet cover, and that answers that could not be given orally be done in writing.       
Lumumba then said, "I agree with you. I think my statement might have been too harsh." He added, "When I used the word incapable, I was not dealing with his capacity. I was dealing with the minister's lack of research information which would allow him to respond properly."
Harmon told him, "That is not correct either." Lumumba then asked, "That is not correct either?"
Harmon said the minister saying that he was unable to answer some questions and would do so in writing did not mean that he was incapable of research and was incompetent.
Lumumba said he accepted Harmon's clarification and then told Allicock jokingly, "I need your protection now."
Around the Web