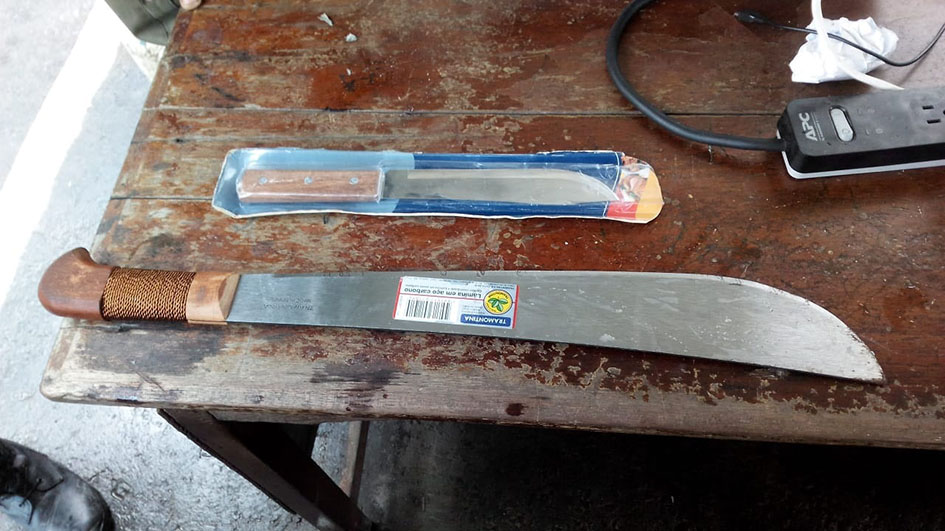 The police in 'C' Division are investigating the discovery of a cutlass and a knife, which were found outside the north eastern fence of the holding bay at the Lusignan Prison.
Director of Prisons (ag) Gladwin Samuels yesterday confirmed the discovery. He said reports have indicated that the weapons were allegedly seen in the possession of an inmate, who was disarmed by a fellow inmate.
Samuels said the items were tossed out of the holding bay. After a report was made to officers on duty, a search was conducted in the area which led to the recovery of the weapons. Both the cutlass and knife appeared to be new.
Only last Monday, Joint Services ranks conducted a three-hour search of the Lusignan Prison and found improvised weapons, cellphones, cellphone batteries, phone chargers, phone cards, cannabis, cannabis seeds and a cannabis plant, among other items.
In the previous week, a plot to smuggle contraband items, including cannabis and phones into the prison, was thwarted. While a suspect fled, three bags containing cannabis, cigarettes, cellular phones, and lighters, among other items, were found.
The Guyana Prison Service continues to grapple with rampant smuggling of items into prisons across the country. Several warders have been accused of involvement and charged.
Around the Web