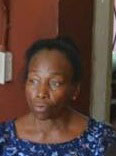 A woman, who said she took up selling marijuana to provide for herself, was yesterday sentenced to eight months in jail after she admitted to possession of cannabis for trafficking.
The charge against Russell, 53, stated that she had 70 grammes of cannabis on June 25th, at Omai Landing.
Police prosecutor Gordon Mansfield told Chief Magistrate Ann McLennan that about 1 am, a party of police from the Mahdia Police Station were on patrol duty at the Omai Landing, where the camp occupied by Russell was searched. During the search, a quantity of leaves, seeds and stems were found in 30 ziploc bags contained in a black plastic bag in the woman's bedroom wall.
Mansfield added that Russell was told of the crime and cautioned before she admitted knowledge and ownership of the drugs.
When asked by the Chief Magistrate if she wished to say anything, the accused told the court that she has been in Guyana working but not being paid for the past couple of years.
She stated that because she was not being paid, she began to sell cannabis to provide for herself.
The Chief Magistrate subsequently sentenced her to eight months in jail and fined her $135,000.
Around the Web