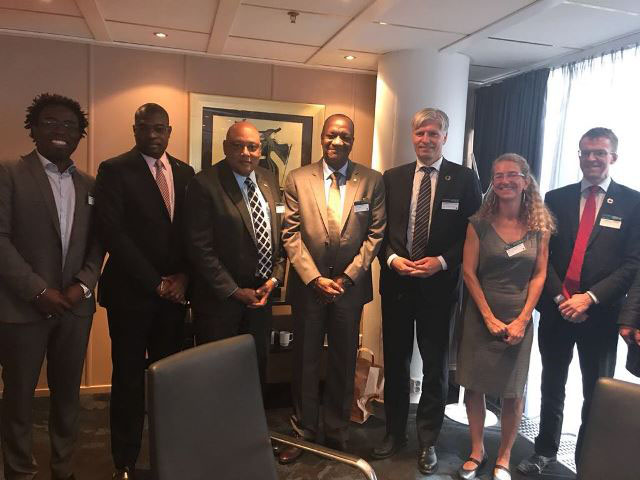 The Governments of Guyana and Norway met yesterday in Oslo, Norway and agreed to move their climate, forests, and sustainable development forward with determination.
"I am delighted that we now have strong agreement with the Government of Guyana on a way forward for our partnership", stated Minister of Climate and Environment of Norway, Ola Elvestuen, after the meeting, according to a Department of Public Information press release.
The release said that the two governments noted the "impressive results of Guyana in maintaining its extremely low rates of deforestation, and Presi-dent (David) Granger's administration's strong push to maintain increasing parts of Guyana's unique rainforests intact. They also noted good progress on forest governance issues, in accordance with the letter and spirit of their partnership".
The release said that the partners also emphasized the importance of  Guyana's determination to move towards close to one hundred percent clean and renewable energy supply by 2025, and its desire in that context to embark on a strong push to increase the amounts of solar power in Guyana's energy mix. The release said that on this basis they agreed to move as expeditiously as possible to enable the assigning of Norway's results based contributions – both those currently held by the Inter-American Development Bank (IDB), and outstanding results-based payments of 300 million Norwegian kroners – towards the realization of this ambition.
"We are enthusiastic about this agreement on the way forward for our partnership. This is important to Guyana and Norway, and will also provide an example to the world", stated Minister of State Joseph Harmon. The release said that Minister of Natural Resources Raphael Trotman and the Minister of Public Infrastructure, David Patterson, also attended the meeting. "We will now move quickly to trilateral discussions between the Inter-American Develop-ment Bank, Guyana, and Norway on how best to deploy Norwegian funding to push our renewable power ambition forward", stated Patterson.
The IDB is currently holding US$80m in funds from a 2009 forest protection deal with Guyana. The money had been intended to be Guyana's equity contribution in the 165 mw Amaila Falls Hydropower Project (AFHP) which the current APNU+AFC government has virtually abandoned. Norway has insisted that the money could only be applied to a project verging on the scale of AFHP and clean energy-based. This had been a stumbling block as the APNU+AFC government had mustered only a small number of small-scale solar projects. Georgetown had also wanted to introduce natural gas in its energy mix as part of meeting its 2025 clean and renewable energy target but this had been balked at by Oslo. There was no mention of natural gas in the release yesterday.
Under the 2009 deal, Norway agreed to pay up to US$250 million for Guyana's performance on limiting greenhouse gas emissions from deforestation and forest degradation, and for progress made against governance-related indicators. Only a small amount of this money has been utilized.
Around the Web