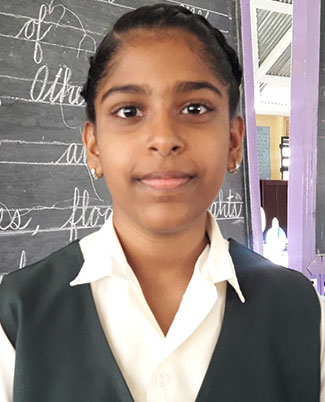 Region Six's top ten students at this year's National Grade Six Assessment Exams are aspiring to great heights as they seek to become the future leaders of Guyana.
  The students, who are anxiously awaiting to attend the high school of their choice, plan to become the future leaders of Guyana, in their respective fields, which include biology, medicine, the presidency, neurology, teaching, banking, forensic science and engineering.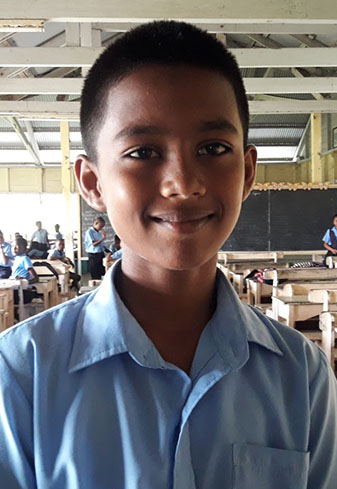 Ranjiv Babulall, 11, of Port Mourant Primary School, who topped the region with 520 marks told Stabroek News that upon receiving his results he was very surprised, but later became excited as the news sunk in.
Babulall, from Adventure Village, Corentyne, who was awarded a place at Queen's College (QC) said that he prepared by studying late in the evenings and early in the mornings. He added, that he gave up watching television and playing games.
He dreams of become one of the leading biologists in the country since he is very interested in "the study of living organisms."
Babulall, who relocated to Berbice from Essequibo, noted that his sister had also topped the Port Mourant Primary School in 2015. "She didn't top the region, but it was my dream to beat her", said young Babulall, as he giggled.
The young lad thanked his class teacher, and his parents, Tameshwar Babulall and Mohanie Babulall for their support.
Michael Moorsalin, 12, of Brighton Village, Corentyne, also a student of Port Mourant Primary School, placed second in Region Six, with a score of 518 and explained that he was very excited to collect his results.
This possible future neurologist said that the preparation leading up to his Grade Six Examination was quite tough, but that it all worked out in his favour in the end. "I had to sleep very late and study hard and I had to give up my games," he explained.
The Port Mourant Primary School student will also be heading to QC.
"It was always my dream to go there from since I was small, "a beaming Moorsalin added.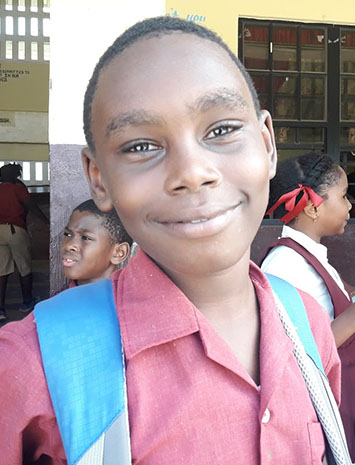 Quacy Isaacs, of the All Saints Primary School, placed third in the region with 515. He noted that he had fulfilled one of his dreams of gaining a position in the region's top ten.
"After school I would go to lessons, and study in the morning, and study my text books on the weekend," he recalled.
The QC-bound Isaacs hopes to become a doctor one day, so as to be able to help "people who are suffering". He wants to be one of the persons who will improve the country's healthcare system.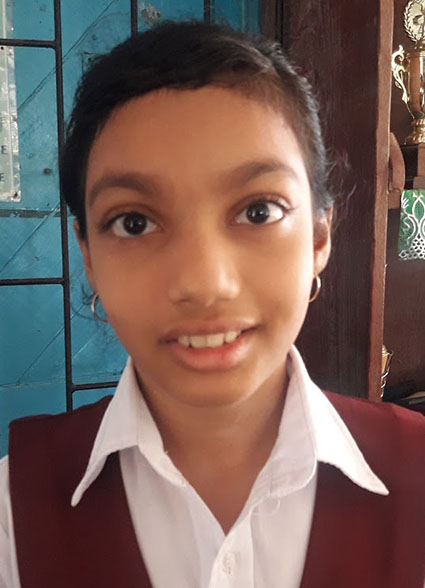 Anisa Hafiz, 11, of Rose Hall Town Primary School (Corentyne), who also scored 515 marks, said, "I am very happy". Hafiz noted that she is inspired by the teachers at the Rose Hall Town Primary School to become a teacher. "I want to be able to share education," the very polite young lady added.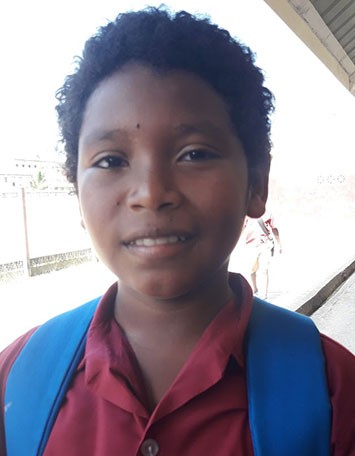 Frank Waddell Jr, 12, of the All Saints Primary School said that he was overwhelmed after he received the news that he had achieved a spot in the region's top ten. "Even though I didn't expect to be in the top ten, I am still very glad that I made it in the top ten," he pointed out.
Waddell, who scored 514 marks, dreams of becoming the president of Guyana one day. "I believe I am the guy to ensure that Guyana prospers and becomes a better country. I would like to improve our education facilities, the entire education sector, and ensure that every child can access a school," said the young lad.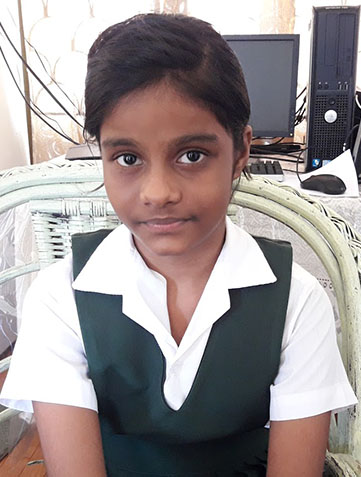 Susanna Khemraj, 11, of Cropper Primary School, who also scored 514, to place joint fifth with Waddell, said," I'm still over the moon with my results. I was confident I would have done well, but not this well. I would study and then go play."
Khemraj added that she hopes to become a doctor one day, mainly to "save people". She was inspired by her older sisters, a general doctor, 25, and a dentist, 24. She encouraged students to pay as much attention in class as possible. The girl, who, along with Waddell, is headed for Queen's College, added, "I would watch educational videos on YouTube."
Roziya Lakhram, of All Saints Primary School and Goed Bananen Land, East Canje Berbice, who scored 512 marks, related that she was very grateful to have her twin sister to study with. Young Lakhram, who will attend the Bishops' High School, dreams of becoming one of Guyana's leading forensic scientists.
Lakhram's twin sister, Rozalia, who secured a place at St. Stanislaus College, told this newspaper that she is very proud of her sister.
They said that they have enjoyed the process of going through primary school together. The young girls also thanked their mother, Priscilla Lakhram for her continuous support.
A shy Arnold Anthony Doman, 12, of Cropper Primary School, told Stabroek News that he plans to have as much fun as possible during the August holidays, since he was on a strict study schedule before the examination. "I like to study from six in the afternoon to twelve in the night," he explained.
With dreams of becoming an engineer, Arnold advises other students to study hard.
"I want to become an engineer because they are very creative. Make the sacrifices because afterwards you will have time to play all you want", he opined.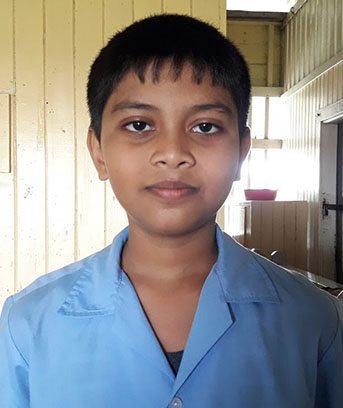 Allan Bangari, 12, of Port Mourant Primary School, who scored 511 marks, noted that he was very happy and surprised when he received his results. However, he said, "I didn't really prepare much, I just study how I normally study."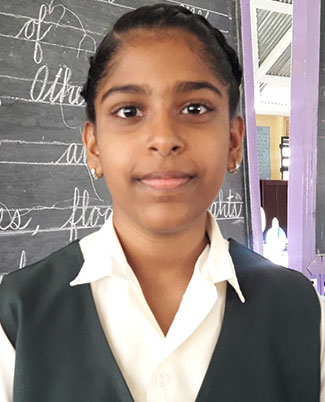 Divya Singh, 11, of Clifton Settlement, Corentyne told Stabroek News that she was very happy when she got the news that she had topped her primary school and scored a spot in the region's top ten. Singh, who scored 510 marks, said that she had some difficulties with the English examination. According to Singh, Mathematics was "the easiest".
Singh, who dreams of becoming a bank clerk, explained that she was very confident that she would excel at the Grade Six Examination. "I had to sacrifice all my TV shows. I study late at nights. It was worth it making all of these sacrifices," she stated.
She thanked her teachers at the Tain Primary School and her parents for supporting her.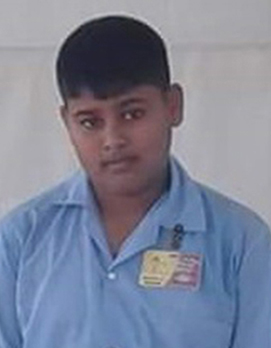 Aaron Subnauth, of New Market Primary School, on the Corentyne, and Ezra Minty of Sheet Anchor Primary School, also scored 510 marks and finished in joint tenth place with Singh.
Minty, 11, of Burn Bush Dam, Cumberland Village, noted, that he is "thankful to God" for topping the Sheet Anchor Primary School.
Young Minty said that he is on a journey to becoming the president of Guyana. "I would have to go through many stages before I can become the president, but I am up for it", a very confident Minty said.
 "I want to better Guyana, hearing about children in the interior how they would have to travel many, many miles to get a proper education, I want to be the one to make a difference," he further noted.
Doman, Bangari, Subnauth, Singh and Minty are all destined to attend the Bishops' High School.
Meanwhile, Minister of Education, Nicolette Henry met with the top students in Region Five and Region Six on Saturday. In Region Five, Anne Khemraj of Sapodilla School of Excellence secured the top spot with 519 marks, Natalee Singh from Blairmont Primary School came in second with 516, and Nicklous Samsundar, also of Sapodilla School of Excellence secured the third spot with 511.
Around the Web