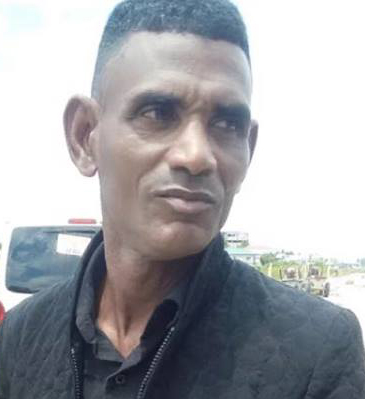 A security guard died on Friday night, hours after he was struck down by a minibus while crossing the McDoom Public Road, on the East Bank of Demerara, on the way to work.
Dead is Dexter Thomas, 48, of Lot 14 Haslington, East Coast Demerara, who had been working at Pritipaul Singh Investments.
Sunday Stabroek was told that the accident occurred around 5.30 pm. Thomas sustained injuries to his head and a broken right leg. He was picked up and rushed to the George-town Public Hospital, where he succumbed around 9 pm while receiving treatment.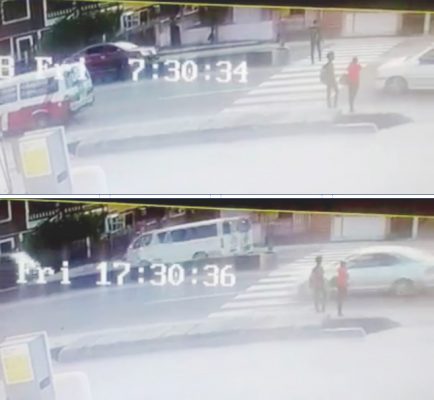 A Linden resident who was the driver of the minibus, which had licence plate BWW 6110, was arrested and he remained in custody yesterday.
This newspaper was told that the minibus was proceeding south along the western carriageway, which was facilitating two-way traffic, while Thomas was crossing from east to west.
Thomas crossed the eastern carriageway and stood between the concrete medians before reportedly making a dash across the road and ending up in the path of the minibus.
The driver then applied brakes and swerved and the bus collided with another minibus, BNN 3796, which was proceeding north along the western carriageway.
Surveillance footage of the accident was circulated on Facebook yesterday.
In a 20-second video, it was observed that Thomas walked towards the pedestrian crossing as he was fixing a haversack on his back. He then quickly crossed the eastern carriageway and as he proceeded pass the concrete median, he made a brief stop, after which he attempted a sudden dash across the other carriageway.
It was at this point that minibus BWW 6110 swept Thomas off the road, pitching him some distance away.
When Sunday Stabroek  visited the scene yesterday, a pump attendant at the nearby Shell Gas Station recalled hearing a loud impact after Thomas was struck. "All I hear is a loud bang and when I go across the road, I see the man lay down on the ground by the wall deh (the median)," she said.
Meanwhile, at the dead man's house yesterday, this newspaper met Thomas' ex-wife and one of his daughters. Thomas was the father of three children.
The woman, who wished not to be named, explained that at the time of his death, Thomas was living alone since they had separated some time ago.
She said she learnt of the accident on Friday afternoon after receiving a call from one of his co-workers, who told her he was in a serious accident and she should rushed to the hospital. "…Like he tell them about me and the children and he give them my number and like that's how they know to call me," she said.
The woman said when she arrived at the hospital, the doctor attending to Thomas related to her what transpired and later told her that "he did not make it."
Around the Web