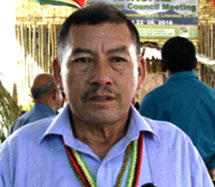 Vice President and Minister of Indigenous Peoples Affairs, Sidney Allicock has recommended to the 12th National Toshaos Council (NTC) Conference that it  considers provisions for the recall of elected leaders at the village council and NTC executive levels in the revision of Amerindian Act of 2006.
"I believe that we must have a system of recall to protect us from the bite of our own ants," he said.
Allicock made the recommendation against the backdrop of having to issue a letter of suspension to Luther Krammer, who was recently elected the toshao of Kamarang Village in Region Seven (Cuyuni/Mazaranui). Krammer, a former teacher, was released from jail in 2017 after serving an 18-month sentence for sexual molestation of a nine-year-old girl.
Allicock took action after a resident of Kamarang wrote to him expressing his concerns about Krammer's conviction.
The deputy toshao of Kamarang is currently representing the community at the conference.
Allicock has also recommended that the meeting consider passing a resolution regarding their position as Guyana's Indigenous People, on Guyana's territorial integrity and national sovereignty. This recommendation brought a loud round of applause from the toshaos attending the annual conference. The five-day conference is being held at the Arthur Chung Convention Centre, Liliendaal.
Addressing the opening of the conference on Monday, Allicock thanked the outgoing NTC for all their hard work stating  that it is one of Guyana's leading democratic institutions which brings together elected Indigenous Peoples leaders.
"The NTC must be protected by all of us. Equally attempts to use this valuable institution by anyone or any group for the furtherance of any selfish, narrow, personal, or partisan objective must be rejected and roundly condemned," he said.
Leaders at the executive level, he said, "must know that we (Government) will not condone their position taken arbitrarily and without our knowledge on matters that are critical to our lives and livelihood."
He continued, "No one should be allowed to use this sacred institution for any purpose other than to represent the Indigenous Peoples."
He reiterated that over the last three years, the Ministry has not taken anyone to court for mismanagement of village funds. However, he said, they have had three years in "trying to get it right."
Toshaos who use public property as their own and who cannot account for funds they were given responsibility for, he said, "will be called to answer."
He continued, "We still have some toshaos who do not want to hand over keys."
As leaders, he said, they were put by the people as servants of the people so they have to "Talk it. Walk it, Respect it."
As leaders of Indigenous Peoples, he said, they must seek to restore respect and integrity to their offices and no longer should there be allegation of unlawful and indecent behaviour on the part of the leaders.
In recent times, the Ministry of Indigenous Peoples Affairs, he said, has been inundated with suggestions that Government has not been addressing issues affecting the livelihood of people in Indigenous communities. Sadly, he said, these come from people who held office previously and who failed to address the same issues.  
Around the Web