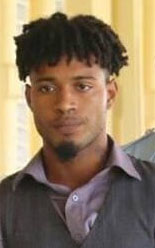 By a majority vote, a 12-member jury yesterday found former Guyana Defence Force (GDF) member Allister Woolford guilty of fatally shooting his friend, Devon Howell.
Woolford was on trial before Justice Sandil Kissoon at the High Court in Georgetown for man-slaughter based on the allegation that he fatally shot Howell on November 21st, 2014, at Kitty.
After deliberations, the jury yesterday returned a guilty verdict by a proportion of 10 to 2.
A probation report was then ordered and the proceedings were adjourned until August 27th, when Woolford is expected to be sentenced.
On November 21st, 2014, Howell, formerly of 87 Da Silva Street, New-town, Kitty, and four other young men were in a house on D'Andrade Street, where they were taking turns "feeling the gun." However, the weapon went off and Howell was shot in his neck. He was rushed to the Georgetown Public Hospital, where he eventually succumbed almost three weeks after the incident. His upper spinal cord was reportedly damaged as a result of the shot and he never regained consciousness.
After Howell died at the hospital, the charge of attempted murder was withdrawn against Woolford and he faced a new charge of manslaughter.
Woolford is being represented by attorney Compton Richardson, while prosecutors Abigail Gibbs and Mandel Moore are appearing on behalf of the state.
Around the Web