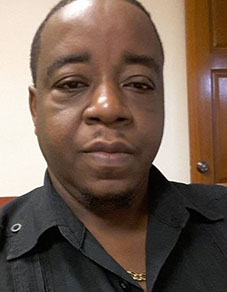 Gregory Frank, the Kuru Kururu man who was found dead in his home on Thursday morning, died from asphyxiation due to a compression injury to the neck, compounded by blunt trauma to the head, an autopsy found yesterday.
The examination was performed by government pathologist Dr. Nehaul Singh.
Frank, 46, a legal clerk of Lot 686 Kuru Kururu, Soesdyke-Linden High-way, was found dead in a pool of blood in his home and it is suspected that he may have been killed during a burglary.
Commander of 'A' Division Marlon Chapman yesterday told Stabroek News that no arrest had been made as yet but he added that investigators are still working to solve the case.
In a statement issued on Thursday, the police said Frank's body, "with a swollen forehead," was discovered about 4.30 am in the living room of his home.
The statement said the rear door to Frank's home was found ajar and the entire house was ransacked. Valuables were also reported missing from the house.
Lavern Frank-Richardson, a sister of the dead man, had indicated that two flat screen televisions and other valuables were stolen from the house.
Frank worked as the legal clerk for Abiola Wong-Inniss at the McKay and Moore law office for the past 18 years.
He is survived by his father and four siblings.
Around the Web