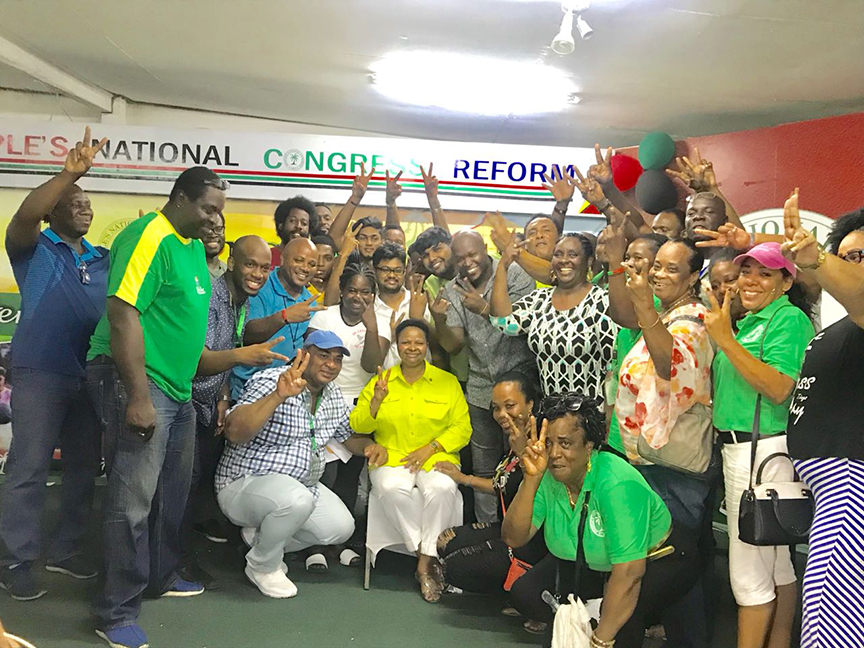 Volda Lawrence was just after midnight today declared the People's National Congress Reform (PNCR) Chairman beating out Joseph Harmon by  59 votes in a  win that President David Granger believes is one for women everywhere.
When the results were officially announced sometime after 12:30 am, Returning Officer Hewley Griffith declared Lawrence, who is the Minister of Public Health, the winner and informed that she had secured 346 votes against Minister of State Harmon's 287.  Minister of Legal Affairs Basil Williams received 183 votes Griffith said.  Williams' result would represent a major defeat for him and the hope of being considered as a likely successor to President Granger.
Lawrence had also secured one of the two vice-chairman positions with 244 votes along with Annette Ferguson who got 260. However, given that she was the winner in the Chairmanship race, the 2nd position went to Dr George Norton who got 242 votes.
President Granger was returned unopposed as  leader while Ronald Bulkan was also returned as the Treasurer unopposed.
Following the declaration, the President gave the charge to the new executive. Granger stressed the importance of gender equality and said that he feels that a female Chair and Vice Chair is a signal of the direction the party is going where women are taking up more leadership roles.
"I believe in gender equality. I am the first President to introduce senior counsel for females…for the first time this year 2018, there have been more national awardees who are women. I can't overrule democracy but I try very hard to ensure that women are well represented at all levels of the party. That is my general philosophy," a beaming Granger stressed. 
"I can't say 'Don't put this person because he is a male' but the people understand what I want, what the party wants and what the party is calling for. So I am very satisfied that I have a female Chairman and a female Vice Chairman," he added.
For her part, Lawrence told the President that she understands his vision for women and will make right by him as she executes  her duties championing the rights of the underprivileged.
"I do not bring gold or silver, but what I bring you is a heart for the people of Guyana. I promise to walk the walk and talk the talk. I pledge to walk the walk and to talk the talk to ensure that we remain in government for the next 5, the next five, the next five… I also pledge to work with our leader to ensure that we address the needs of our people and that we all work together in unity and as we leave—- all are members of the greatest party in this country. Let us walk with purpose and dignity and show the Guyanese people that this is the party to be a member of," an emotional Lawrence said to screaming supporters who stayed to celebrate with her.
Turning to President Granger she vowed, "I will walk side by side with you and I will bring the women with me and we will carry you and this party onwards."
Granger said that he believes that the elections were demonstrative of democracy and while the process might have been slow and difficult, it was "clean and complete."
Voting started sometime after 11 am and this newspaper was told that it was because there was a power outage. Later in the afternoon there were periodic announcements on the Public Address system for persons to behave orderly.
Voting ended sometime after 6pm and the counting of the ballots began immediately after.
Emotions ran high for Lawrence's supporters who could not contain themselves with joy and continuously screamed her first name as they formed the letter for it with their index and middle fingers.
"This is what I am talking about and I have waited for years to see. Here we have a woman as Chairman and should be taken as a signal that we can have a women as our presidential candidate and President of this country," Cullen Moore said.
Worth every minute
"The process was long but it was worth every minute of it," he added
Granger added:  "Political office is not a glamorous affair …At the end of the day we are one party and our party is very important not only to us but to the country. The persons who have been elected understand this duty. They have been long-standing members. And each elected member is a member of my cabinet. Rivals in the campaign but they are colleagues and they will all be at cabinet on Tuesday morning.  We in the PNC know who we are and we know what we have to do and we know where we are going. We have a team and under my guidance will work together. These are not strangers. I have worked with them as shadow ministers, in cabinet. We have a mission and what occurred over the last few days is an indication of our commitment. The people have seen democracy transparency …We are going to the future with eyes wide open".
" …I ask you the members of the public to keep faith with us. Just as you kept faith, the same with us over the next two years and beyond and we will lead you to that promised land. There are no victors and victims. We are all working for a common destination," he added.
For Williams and Harmon there is no animosity and it is now time to join forces with Lawrence as the party strategizes and plans for the November Local Government Elections.
"The party has won! I think that this is a historic moment in our party when we have an opportunity to work together to build our party. I don't see a defeat here I see that we have all won out of this."
 "It has mobilized our base so you can feel the energy in here. I want to congratulate Ms. Volda Lawrence on her victory and I want to congratulate all the other members; the Vice-Chairmen…two of the persons who scored very high were on my campaign team," Harmon added.
Williams said that "It is the time for women, the party has spoken, the woman has won and I will support the woman. It is a great win and we will move forward together."
Griffith also gave the results of all the other persons who had contended for position of Vice Chairman. Aubrey Norton secured 236 votes, while Christopher Jones received 226, Cosbert Roberts, 16, Jermaine Figueira, 22, and Thandi McAllister, 84.
Around the Web