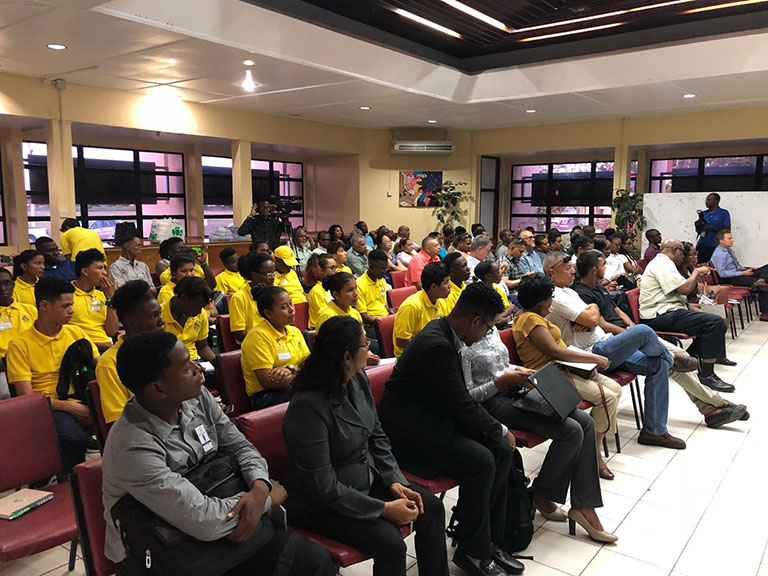 Practical solutions are needed to sell miners on giving up mercury in gold recovery, according to Canadian mining specialist Dr. Bruce Marshall, who says education and training are key in helping them transition to more efficient and less harmful methods that would yield higher returns.
Marshall made the argument on Monday night at a presentation on mercury-free strategies for artisanal and small miners at the Education Lecture Theatre at the University of Guyana's Turkeyen Campus.
Marshall's presentation, which is part of the Mining Week activities, was focused on the effects of mercury in artisanal and small mining on the miners and their surrounding environs and different methods and techniques that can be used instead. It is is based on his extensive work in the Amazon region.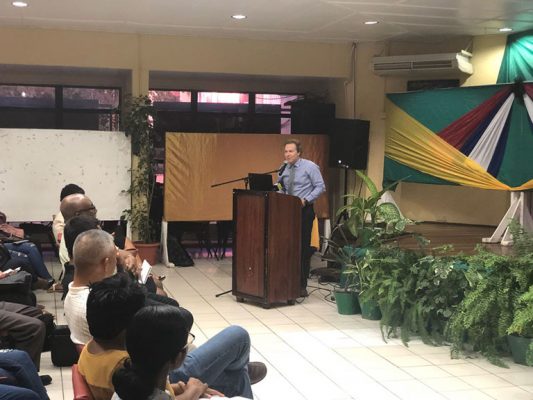 "There have been many different solutions that have been tried to solve the artisanal gold [mining] problems. We've got an environmental approach, we've got a health approach, and you can talk to these guys until you (get them blue)  in the face that this mercury is doing them harm [but] you know the only argument that works? It's when you tell them it is going to cause impotence," Marshall said.
He noted that the social, technological and fair trade approaches do not work since it is extremely difficult to tell whether the gold was amalgamated with mercury.
"There's no simple technique to do it and that is the problem. So, unless you are right on top of these people from source to buyer, you are not going to know if the mercury was used somewhere in the process," he explained.
He also noted that the legal approach—formalising the miners—does not work since there are often more persons operating without the right documentation compared to those with it. He said that while there are over 150,000 artisanal and small miners in Peru, only 1,000 of them have been formalised. In Colombia, where mercury was recently banned, there are over 200,000 artisanal and small miners but only more than 20,000 of them have been formalised.
"It looks good to international agencies but we need more pragmatic, practical solutions on the ground that will make a difference for the miners to make the transfer away from mercury to less polluting practices. The only good thing about mercury is the fact that mercury is very poor at gold recovery and if it was efficient then it would be a losing game but there are other ways where you can get much better recovery results," Marshall explained, while adding that formalising the sector will only work if the miners were being provided with education and training, organisation and financial support and it must be done in that order.
Expounding on financial support, Marshall noted that miners would need to be provided with technical assistance in capital in order for there to be a significant reduction in the use of mercury in mining. "It takes money if you want to have the right equipment and for you to know how to use that equipment," he said, while noting that the co-existence between the small miners and the large companies is one solution.
"The coexistence solution is basically that the large scale mining companies set aside part of their concessions for the artisanal miners to work. They give them a small 100-200 tonne per day plant… It's going to be mercury free if you use driving concentration equipment. The tailings then go to the larger plant but in many cases if you do grab the concentration correctly, you're not going to have a lot of tailings," he said, while suggesting that the tailings can even be sold to larger miners or third parties to be further processed.
Marshall added that the feasibility of the economics shows that it can pay but large companies care more about their corporate liability than the environment.
'Blown away'
Marshall explained that what could work here is cyanidation, which he said recovers gold significantly better than using mercury. "When we did it with the miners, they were blown away but you had to show them otherwise they didn't believe you," he said, while also pointing out that the method of using activated carbons is also way more efficient that mercury. However, the two above-mentioned methods are more time consuming and expensive than the traditional methods but with the increased recovery miners would make more money.
"This is where the education and training comes in, so you understand what it is you are doing. I am giving you food for thought and there are solutions out there and these solutions can be useable in other areas but here in Guyana you can go mercury-free with some good gravity concentration and cyanidation and batch leaching," Marshall added.
Underlining the need for education and training, he also pointed out that from his experience with artisanal miners, they often call for better education, training and foundation for their children. He said that they often do not want to continue using the same rudimentary methods and therefore they should be exposed to courses in mining technology, simplified geological exploration, health and safety, methods to improve gold production, small business management and policy and regulation in mining as well as conflict resolution and ethics in mining.
He also noted that while Guyana has a national action plan that he heard about, it needs to include initiatives to combat the black market trade of mercury and plans to promote gravity concentration techniques and batch leaching.
Last year, President David Granger recommitted Guyana to eliminating the use of mercury by 2027. Addressing the High-level Side Event of the 1st Conference of parties to the Minamata Convention on Mercury in Geneva, Switzerland on September 28th, the President said, "Mercury is not a plaything. It is harmful to human health and to the physical environment, whether in the air, on land or in water. The use of mercury, in human products and processes, is a threat to human health and the environment."
Natural Resources Minister Raphael Trotman had said in July that he blocked a shipment of 30,000 kilogrammes of mercury.
In a bid to decrease the use of mercury in gold mining and by extension the pollution of mercury from burning the amalgamated gold, Trotman noted that the government is getting support from stakeholders such as Conservation International, the World Wide Fund for Nature (WWF) and the United Nations to reduce "to a minimum the use of mercury in Guyana and hopefully one day, with the miners, we can come to a place that we no longer have to use mercury."
Miners around the country have also expressed their desire to move from their current methods but had also said that the other viable methods are too expensive.
Commissioner Newell Dennison of the Guyana Geology and Mines Commission was also present at the event along with other governmental representatives.
MERCURYLEC2: Mining specialist Dr. Bruce Marshall making his presentation on Monday
Around the Web