Art and Craft artists are set to have their creations on display throughout the week on the Main Street Avenue as part of Guyana's City Week celebrations.
However, some exhibitors have expressed concern with the City Hall's lack of interest in their efforts.
One exhibitor, who asked not to be named, stated that she found out about the exhibition through an advertisement. She stated that she, along with other craft artists, went to City Hall and paid $10,000 to acquire an allocated spot to display their products for the entire week. The woman added that they have not been visited by any City Council official or even the City Police.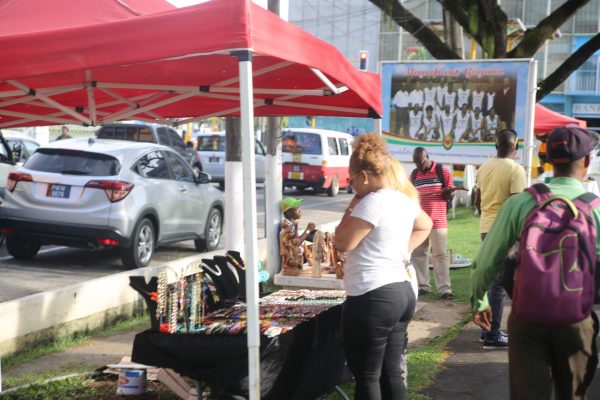 "We're out here and nobody ain't come and check to see if we in the right spot or say thanks for coming out," she lamented, while pointing out that City Hall appears to have done nothing to promote the craft exhibition.
Artists have on display a number of craft items which have all been made with locally sourced materials. The various items include earrings, wristbands and ornaments.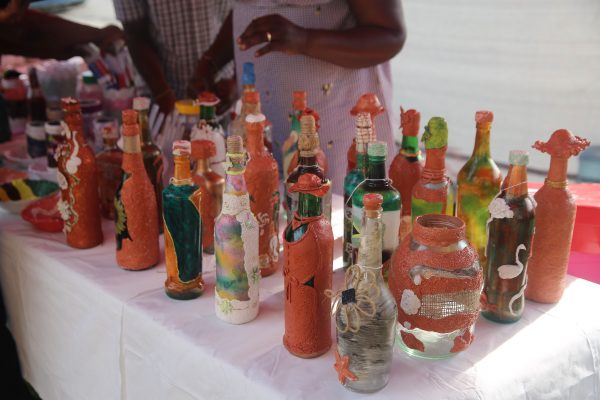 One woman, Elizabeth Bobb-Ralph had on display a number of ornaments created from clay and recycled glass bottles. The woman, who is a nurse by profession, spoke about the long process to make the ornaments. She related to Stabroek News that she would have to gather bottles, sanitize them and then prepare them for decoration. The designs on the bottles are made with clay which is plastered on to the bottle with a special adhesive. The clay is then painted to give the bottles their finished design.
A team from Sharon's Indigenous Crafts had on display hats and indigenous wear crafted from Tibisiri straw, along with necklaces and earrings fashioned from 'Buck' beads. The team members were quite excited to showcase their handmade products.
Around the Web