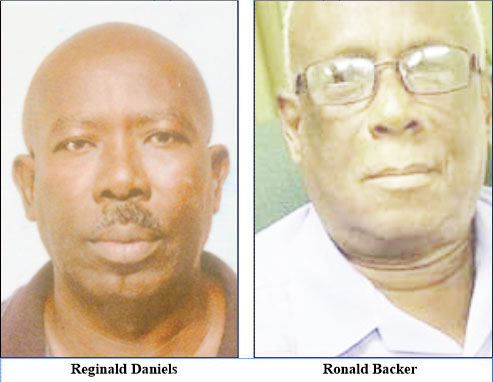 Ronald Backer, the political advisor to Minister of State Joseph Harmon, has found himself facing a lawsuit for allegedly failing to repay a US$15,000 loan he received from a former friend more than a decade ago while they both resided in the United States (US).
With a hearing scheduled to come before Justice Gino Persaud on Friday, however, Backer is contending that the local courts have no jurisdiction to hear the matter, while adding that it had always been his and his accuser's intention to create legal relations in the US.
The action brought by Reginald Daniels is for full repayment of the sum, which he said he loaned Backer in June of 2007 to help him avoid a bank foreclosing on his house.
Daniels is seeking to recover the full sum or its equivalent in Guyana dollars, along with all accrued interest at a rate of 6% per annum from July 10 of this year, when he filed his claim and thereafter at 4% per annum from date of judgment, until the whole sum is paid.
He is also seeking any other order the court may deem just to grant as well as court costs.
Daniels, in his statement of claim, said that while Backer acknowledges the outstanding debt, his response has only nonchalantly been to the effect of saying, "boy that's a lot of money."
Describing himself as a Financial Consultant who trades under the name Daniels Financial Services, with an office in Brooklyn, New York, Daniels said Backer had promised to repay the money within a year of the loan.
After lending him the money, however, the applicant said the now political advisor "disappeared" from his US residence and he was unable to contact him until his subsequent discovery that the man had re-migrated to Guyana, where he now works as an advisor to government.
Daniels said he saw Backer when he returned to Guyana in 2011 to assist the current government with its elections campaign and he had asked for his money then and even after his appointment as political advisor, but to no avail.
Daniels said he told his former friend that since he was now earning a salary, which he says stands at in excess of $500,000 monthly, he needed to be repaid his money but to no avail.
Daniels has expressed the belief that the political advisor is "willfully and deliberately" refusing to honour his debt to him, "even though he is capable of paying the money owed."
In a notice of application filed by Backer, which is also set for hearing before Justice Persaud on Friday, he has sought to argue that the courts here do not have jurisdiction to hear Daniels' matter.
Alternatively, he is arguing that the action is statute-barred, and is seeking an order to that effect. He is also hoping to be granted any other order that the court deems just.
In his counter application, Backer acknowledged receiving "monies" from Daniels "sometime in 2007," which he described as being pursuant to "a business transaction in the United States of America."
According to Backer, they had both agreed "that the monies would be used on a property" which he, (Backer) had in the US, with the clear intention that they would create legal relations on US soil.
It is against this backdrop that Backer is advancing that since the transaction and every part thereof occurred in the US, the courts in Guyana would have no jurisdiction to hear the matter.
He further argues that because the transaction took place in the year 2007, the limitation period has expired and, therefore, an action based on that transaction is barred by statute.
On this basis, Backer is arguing that Daniels' action cannot stand on its merit.
Daniels is being represented by attorney Lyndon Amsterdam, while Backer is being represented by attorney Sedella Ferrell, who is attached to the Chambers of Joseph Harmon and Associates.
Daniels had previously sought Harmon's intervention in the matter. A letter, dated June 1st, 2018, which he penned to Harmon for his intervention in the matter, was seen by this newspaper. In the letter, Daniels explained his plight to Harmon over his employee's non-payment of the debt, while explaining that he wanted to have the matter amicably resolved, so as not to cause embarrassment to the minister's office. He informed the minister about his intention to initiate legal proceedings aimed at recovering the sum owed to him and to even publicise Backer's conduct. However, there was no response.
Around the Web