A vendor has alleged that she was removed from her vending spot on Robb Street, in Georgetown, after her testimony on Monday before the Com-mission of Inquiry (CoI) into the administration and operations of the Mayor and City Council (M&CC). 
While CoI Chairman Justice (Ret'd) Cecil Kennard and Deputy Chairman of the Local Government Commission (LGC) Andrew Garnett assured that those who gave evidence would not be victimised, vendor Melissa Roberts is claiming otherwise.
Roberts yesterday reappeared before the CoI at the Critchlow Labour College, where she disclosed that she was visited by Mayor Patricia Chase-Green and the Market Clerk on Tuesday and they informed her that she could no longer vend at the Robb Street location she had been occupying.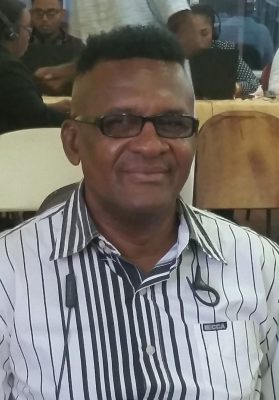 "At about 6.30 pm, the Mayor and a Market Clerk by the name of Miss Sharon came and removed me from spot 46-47. They said I cannot vend there anymore. I asked them to give me somewhere to vend because I'm selling perishables, Ms. [Chase-Green] said to me the Market Clerk will deal with that," she noted.
Roberts claimed that the Clerk then sent her between "the cheese-man and the watermelon boy," where there was no space, so she was forced to vend in the middle of the road and pay $300 for the privilege.
Appearing to speak through tears, Roberts said that she visited both the Market Clerk and acting Town Clerk Sharon Harry, who told her that she would have to wait until next Tuesday for a space to sell. As a result, she estimated that would lose about $15,000 in daily profits and $70,000 in produce.
Asked if she felt her removal was related to her testimony before the Commission Roberts said, "Yes, they are victimising me."
"I talk for my rights because I'm a Guyanese and I born in Guyana," she said, while noting that although the Mayor was not hostile to her, the Market Clerk was very rude.
Since the Commission began its investigation on Monday, nearly a dozen vendors have testified to being arbitrarily removed by agents of the city administration after having paid to vend in particular locations.
Another vendor, Carol Carter, who is Vice President of the Guyana Market Vendors Union (GMVU), told the Commission that she had been renting stall 5 in the vicinity of Stabroek Market at a monthly rate of $2,520 from November, 2013, until just before the May, 2015 elections, when she was removed and her stall was demolished.
Carter repeatedly alleged that although she had been paying rent since 2013, the Clerk of Markets removed her from the list of approved vendors and instructed his staff not to collect rent from her.
Having relocated to a stall owned by her parents, she alleged that merchandise in excess of $400,000 was removed from the new location by revenue staff in 2016 after she became an active member of the GMVU.
'Campaign against one'
A third vendor, Carol Stephens, related a tale of having her stall on Regent Street demolished after her husband had a disagreement with a businessman, who appeared to be personal friends with Town Clerk Royston King's bodyguard.
Stephens alleged that she had been vending in the location for four years but after she complained to the City Constabulary that smoke from an unauthorised outdoor bar-b-que operation was damaging the clothes she was attempting to sell, the operator complained to the city and staff from the City Engineer's Department subsequently demolished her stall.
She told the Commission that after she complained to Minister Ronald Bulkan, King allegedly informed the Ministry of Communities that he had been carrying out a campaign.
"A campaign against one," she said to the laughter of those gathered at the Critchlow Labour College.
Since the start of the hearings, King has been accused by several witnesses of questionable actions, including allegedly using staff from the City Constabulary and the Engineering Department as his personal enforcers to bully vendors.
Additionally several former senior members of staff have testified that after decades of service to the municipality, they are being denied benefits owed them in their old age.
Retired Superintendent Gordon Langevine yesterday testified that he served as part of the City Constabulary for 32 years but since his retirement in March, 2017, he has not received the pension, gratuity and other benefits to which he is entitled. He added that he had also not received any of the salary increases that he was also entitled to during the years 2015 to 2017.
The CoI was established by the LGC following myriad complaints about the administration and operations of the M&CC. According to the Terms of Reference set out by the LGC, Kennard is mandated to "Investigate the administration and operations of the Mayor and Councillors of the City of Georgetown; [investigate] the reason for and the process by which a motion of no confidence on the Town Clerk was dealt with by the Mayor and Councillors of the City of Georgetown; and generally to investigate any matter that may be brought to the attention of the Commissioner during the Inquiry that would adversely affect the administration and operation of the Municipality of Georgetown."
Around the Web