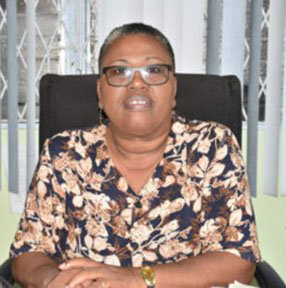 He is 11 years old, lived on the streets and survived by doing odd jobs for persons who paid him in cash or food. He never attended school and is addicted to drugs.
He is just one of the thousands of children in state care whose plight came into focus as the world observed Child Protection Week last week.
As the Child Care and Protection Agency (CC&PA) continues its struggle to protect the nation's children, it has faced resistance from the parents and relatives of the children it attempts to rescue and fierce criticism from many in society that it does not do enough for the children in need and for its approaches in attempting to help them.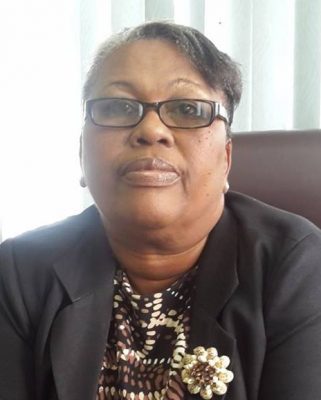 But its Director Ann Greene defended her agency, saying that its underpaid workers are on a mission when it comes to child care, but the agency alone cannot do it, communities and all of society need to become involved.
She stressed that it is impossible for child protection to be the work of one agency in isolation, it calls for all players on board. There is need for awareness so that communities could understand their roles as child protection does not start at the agency but in the families. She pointed out that teachers are frontrunners in identifying child abuse.
A mother and young daughter standing in the filthy trench in front of the agency berating officers for removing her son from his home environment is just one form of resistance the agency's workers face and according to Greene they are too many mention.
But she said when they have to deal with young girls being impregnated by their fathers, stepfathers and other relatives and children neglected and endangered by their parents and guardians, they have no apologies for intervening and removing the children.
But as the world shone the spotlight on child protection Guyana should bow its head in shame as from January to August the agency has received some 3,066 reports of child abuse.
According to figures shared with the Sunday Stabroek by Greene, the most reported forms of abuse is neglect which stands at 1,522 and surprisingly, according to her, physical abuse has jumped up more than sexual abuse which stands at 604. Physical abuse is 694. As has been the trend mothers again appear to be the main perpetrators. There were 1,296 complaints made against mothers, 635 against fathers, 104 against stepparents, 85 against grandparents, 30 against siblings, 112 against other relatives and 23 against guardians. There were 78 complaints against unknown persons and I asked about this, Greene explained that it is difficult to get girls from the hinterland areas to reveal who would have abused them and as such while there is evidence that the child is abused, most times sexually, the perpetrator is unknown.
Asked how she feels about the high volume of child abuse reports in just a span of eight months, Greene attributed it to the fact that more persons are becoming sensitized and are now reporting the abuses. "… If you do more awareness you get more reports…," Greene said as she revealed that the agency has employed many different means to communicate what is abuse and the consequences. These include using disc jockeys, comedians and also putting out advertisements in two Amerindian languages that will be aired on the hinterland radio stations; this was recently launched.
As for the figure given, Greene explained that it did not necessarily mean that 3,066 children were abused as one child could endure several different types of abuse but each would be counted separately when the figures are being compiled. Total head count of children is 1,167 boys and 1,671 girls, of those 93 have been placed in state care.
"People feel that we usually go to take away children but that is not true, where would we put them? We come to stop the abuse, to intervene and stop it and whoever is the perpetrator we bring them to justice and get help for the child. So that is the intention when we go out there," Greene stressed.
The remaining children, the agency head said, remain in their homes but the intervention will ensure that the home environment is safe and that the perpetrator is removed from the home. She pointed out that in relation to physical abuse the child may only be removed if the abuse is extreme, but in many of the cases they would intervene and expose the parents to parenting classes that can see them utilizing non-violent methods in disciplining their children.
But when it comes to sexual abuse it is a different issue as in many cases the family is protecting the abuser and the child is even told not to speak about the abuse and as such sometimes the child will have to be removed from the home environment. In other cases the perpetrator is removed from the home and some placed before the court.
Tip of the iceberg
And even though the number of reports are high, Greene still believes that as it relates to sexual abuse they are just seeing the tip of the iceberg since this is a hidden crime, as she pointed out many children are being abused and they are not even aware and as such do not talk about it.
Fighting sexual abuse becomes more difficult as many times the mothers do not believe that their partners are abusing their children and in some instances they even blame the children for the abuse.
 She said many try to blame the victim but they need to understand that a crime is being committed once a child under the age of 16 is forced to become intimate.
"It is statutory rape. She cannot say yes and under the law you cannot have sex with a girl under the age of 16," Greene emphatically told this newspaper.
"And this whole question about 16, people are not understanding, it is not a license for a grown man to have sex with a girl aged 16 and say she has reached the age of consent. This is really tied to the Marriage Act," the agency director said.
She explained that this is because culturally some persons get married early and a 16-year-old can get married to a young man with her parents' consent, as opposed to a grown man having sexual relations with a 16-year-old. Such a person, Greene said, is a paedophile.
"She is still a child. Why should you want to have sexual activity with a child? It is perversion. It is just not right," she continued, adding that it may take another generation to change the behaviour and attitude towards this issue.
Criticisms
Greene admitted that her agency has come in for flak over the years and when specifically asked about that from non-governmental agencies, the director stated that at times this is self-serving as the organisations have to get funding and "they believe that they have to dis an agency to get funding." However, she stressed that there is room for everyone and the policy of the agency is to embrace everyone once it is to help the nation's children.
"They get a lot of money that are paying them big salaries," she said of the NGOs. "My people are public servants. They are poorly paid… and for some people in here [the agency] it's not about the salary, it is a mission. We are on a mission."
She however, pointed out that child protection is still relatively new in Guyana as people still don't understand it. The agency head boldly stated that the country has come a far way and even people in the developed world have indicated this. She also said that there are cases where children fall through the cracks in the developed countries and there are issues in those countries that are not even found in Guyana.
"People seem to think that child protection is this agency and they narrow it down to Ann Greene… I am one person and I have to get systems and I have brought child protection a long way… When this agency started I had to borrow four officers and now we have a hundred and eighty- something staff," Greene said.
She made mention of the neighbours who had said they called the agency when Brenda Ferreira started to behave erratically and also when she had alleged abused her children. The woman has been charged with chopping her three-year-old son to death. 
Greene stressed that at times it may take more than a call but rather it may take one going to the police station or even taking a child to the station.
"They would call us and they would go outside and look for us like the fire engine and say 'oh they ain't come yet', that is the fire engine and they can't even come as fast as people would expect us to come when they make a call," Greene noted.
She explained that the hotline is 24 hours and at the end of the work day it is channelled to a cell phone that an officer takes home and there is a monitoring officer. And while not making excuses, Greene said at times the phone does not work and they are not aware. When it works the officer has to answer and record each call and if it is an emergency the officer takes action by calling the police, informing them of the report and asking that the child be taken and dropped off at the Sophia home, or, in other areas, at the hospital.
"That is the kind of network we have. You can't expect an officer to leave their home at two o'clock in the morning to respond to a call when they have their own children to protect," Greene pointed out.
If it is not an emergency, the call would be recorded and the next day the intake manager would look at it. Even in that process the calls would have to be prioritized and then the various teams would have to go out into the areas. At times it is difficult to find homes based on the directions given by the caller. As a result, Greene encouraged persons to call back if they believe that action is not being taken.
"People just call for call sake…" she noted. 
Specialised court
Asked about Chancellor of the Judiciary (ag) Justice Yonette Cummings-Edwards' announcement that ahead of the expected activation of the landmark Juvenile Justice Act, a specialized Children's Court will soon be up and running, Greene said this is welcome. She noted that the Act prescribes how a juvenile in custody should be treated which begins with the rehabilitative process stepping in from the time they are held by the police.
"Introducing the juvenile court is going to ensure that children who find themselves in conflict with the law are treated how they should be in keeping with their human rights. A lot of times those juveniles are lost away but the law prescribes for a juvenile to have a psychological evaluation as many times they cannot even plead because of some mental deficiency but only with an evaluation this can be discovered," Greene pointed out.
Under the Act the court would also look at whether a child is offending because of a lack of responsible care giving. A child can no longer be charged with wandering, their parents or guardians will be held responsible if they are found wandering because if the child is beyond their control they cannot leave them to wander, but should seek intervention from the authorities.
"Under the Protection of Children Act, any parent who puts their child in a position of danger can be charged. So, if you fail to control your children and you leave them on the road corner you can be charged…," Greene warned.
The agency also comes into play because while the police cannot charge children with wandering under the law, there is provision for the lawmen to pick up children up and take them to the agency and Greene said this has been done in recent times. As a result the agency has to have the right care centre for such children and this is being addressed at the highest level of the Ministry of Social Protection.
She pointed out that some of the children out on the streets get up to criminal activities and they are also preyed upon by criminal elements. As such they need an environment that is rehabilitative and cannot be housed with children who are abused. In the interim, Greene said, they are exploring the option of using the foster care programme and having homes that house about four or five such children at a time; so far two persons have indicated a willingness be a part of such a programme.
Around the Web