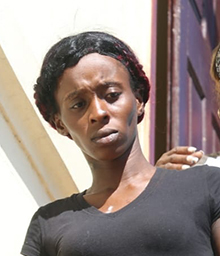 A Linden woman is now a remanded prisoner after police say she was found with just over a pound of cannabis at Bartica.
Elsie Vigilance, 25, yesterday pleaded not guilty after she faced the charge of having in her possession 489.9 grammes (equivalent to 1.08 pound) of cannabis for the purpose of trafficking.
Police Prosecutor Simone Payne told Chief Magistrate Ann McLennan in Georgetown yesterday that at about 4.40 pm last Saturday, two police constables were at the Bartica stelling when they saw Vigilance acting in a suspicious manner.
Payne said Vigilance was subsequently told by one of the ranks that he wanted to perform a search and she was then escorted to the Bartica Police Station, where it was done. The search allegedly uncovered a yellow plastic bag, wrapped in a black bag, which contained leaves, seeds and stems that appeared to be cannabis. As a result, Vigilance was arrested.
After the prosecutor presented her case, Vigilance was remanded to prison and the matter was adjourned until October 17th, 2018, when a hearing is slated at the Bartica Magistrates' Court.
Around the Web