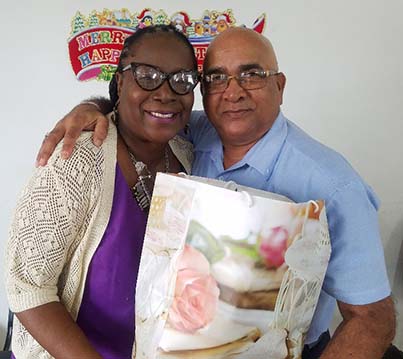 The Region Three (Essequibo Islands-West Demerara) Regional Executive Officer, Denis Jaikaran, is to be reassigned to Region Two with effect from January 1, 2019, while the sitting Deputy Regional Executive Officer, Jennifer Ferreira-Dougall, will be promoted to REO of the region.
According to a Department of Public Information (DPI) press release, this announcement was formally made on Wednesday by Regional Chairman Julius Faerber at the statutory meeting of the Regional Democratic Council of Region Three. Faerber said that the decision was formally communicated to him by the Office of the Minister of Communities and signed by the Minister of Communities, Ronald Bulkan, the DPI release added.
Councillors from the various political parties congratulated REO Jaikaran for doing an excellent job over the three years he spent in the region.
Speaking from the government side, Lead Councillor Kathleen Armstrong was quoted as saying, "During your stay here I have learnt a lot from you and you have indeed set the bar very high with your remarkable achievements in this region. You have indeed moved this region from one extremity to another and it was all for the benefit of our region. We wish you well as you take your skills to another part of our country." She also noted that he laid a solid foundation upon which DREO Ferreira-Dougall can now continue to build.
Representing the opposition's side, Vice Chairman Sheik Ayube was quoted as saying, "… we realised that we had to work with each other for the betterment of this region. I respect him for realising that bringing the good life to the people of Region Three had nothing to do with who is PNC and who is PPP. This man has done work for all communities in this region and has done an exceptional job. We will miss him on this side of the house and I hope we can enjoy a similar relationship with the incoming REO. We welcome the new REO and look forward to working with her and I believe she is the first female in history that will hold the REO office so I personally wish her well."
Many other councillors expressed similar words of gratitude for the excellent work done by REO Jaikaran in Region Three including AFC member Harry Deokinanan who congratulated the REO and wished him well while acknowledging the improvements he brought to the region.
The Regional Chairman thanked the outgoing REO for his service to the region and its people and welcomed the new REO.
Questions were raised in 2017 as to how Ferreira-Dougall, 63, came to be appointed as the Deputy Regional Executive Officer of Region Three. There had been concerns that Ferreira-Dougall, a former PNC Member of parliament got the post without advertisements being placed.
Around the Web