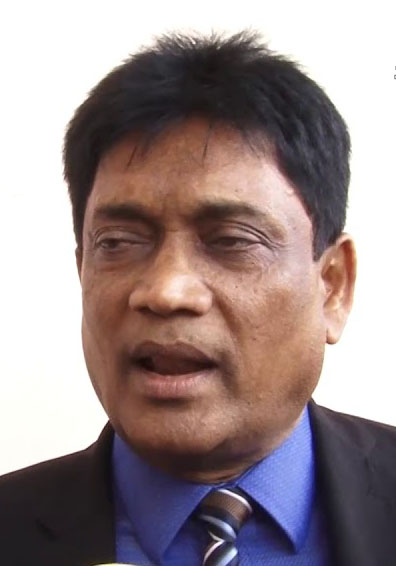 Former AFC parliamentarian Charrandas Persaud says he will dedicate the rest of his life to ensuring that the party does not regain any seats in Parliament.
Persaud, who is currently in Canada, made the pronouncements at the Shri Surya Narayan mandir. A video of Persaud's address to the mandir was uploaded on their Facebook Page yesterday afternoon.
Persaud initially told the gathering that what he was about to tell them was not part of a campaign but he feels obligated to explain to the people what prompted his decision to support the PPP-sponsored no-confidence motion.
"I'm a lawyer by practice and I had a very successful practice and I am saying had. Right now, I don't know what's happening to it [and] whether or not I can go back to it. I did not want to get into parliament because I said I'd have to give up my practice. Eventually I was offered a seat as an MP, just as an MP not as a Minister. I took it because if I didn't, it would've been given to somebody else outside of Region Six. It was the first time in 2011 that the PPP lost a seat, a national seat in Region (Six)…and that was because we campaigned vigorously and people wanted a change. I was part of the team of AFC and I thought that what we were doing was good but I did not promise the people x amount of dollars for sugar and rice…I said the effort that I am making to remove this government will be intensified if the government that replaces it does not perform for the people," Persaud explained.
He referenced the APNU+AFC government's decision to close the Wales, Rose Hall and Skeldon Estates – a decision he said was not discussed with the AFC members including Prime Minister Moses Nagamootoo and Vice President Khemraj Ramjattan.
After the closure of the estates, Persaud said, he saw the suffering of the sacked sugar workers as well as their children, something, he said he had endured personally as a youth growing up after his father also experienced a similar fate in 1966.
Persaud also referenced the approval of former Prime Minister Hamilton Green's pension bill, ExxonMobil's secret contract with Guyana, Chairman of the PNCR Volda Lawrence's comment on hiring only PNC people, as well as the government's inability to properly prepare for the incoming oil and gas industry as reasons for voting against the government and his party. He also cited the US$18 million signing bonus that was kept a secret by the government for more than a year.
"When we were in parliament, we were told that you vote for the government, you support the government. We had asked for us, as AFC, to meet and discuss certain bills we will not vote on, or some we should support because we have not blended with the APNU [A Partnership for National Unity], we were standing side by side. But when it we came to voting, all we do or all we did, yes," he said.
"…But those are some of the things that compelled me to take this government out. And that is why I did what I did. My brothers and sisters, it is not, I did not even think I would be running for office or a candidate forming a new party. I just want to be a lawyer so I can get up and go see my grandsons in Canada. I can go to mandir and try to sing a bhajan while I am free. I said I am not going to (say) yes to that former party. The encouragement is to do that, it may be a good thing because I could be taking some of the votes from the AFC. What I am promising everybody is that the AFC is not sitting, Moses Nagamootoo and Khemraj Ramjattan, [are] not sitting again in Parliament as far as I am concerned and the rest of my life will be dedicated on the campaign trail to make sure they don't go there," Persaud said, adding that what they did to the people is "terribly wrong."
After explaining the process of voting in the National Assembly and what happens when a division is called, Persaud emphasised that he did what his conscience told him to do.
"I waited for my opportune time. I don't care what happens. If I am going to be part of a political party, a new party, well, I am not going to campaign on the PPP slate or the AFC slate – that is done for me. But I will ask you, you have relatives, let them come out and make a difference. This government cannot and should not be put back into office because many, many of you will live to see your relatives in the country suffer… The oil does not belong to the government but the people of Guyana and we the people of Guyana do not know what contract was signed so what are we doing," Persaud said.
According to him, too much has not happened and too much has happened that was not right.
Persaud told the gathering to ask themselves that if he did betray the government, whether the AFC betrayed the people of the country and which was a greater betrayal.
He also emphasised that he did not want to waste his one vote and that is why he kept his ambition a secret until he was presented with the prime opportunity such as a no-confidence motion.
"Assuming that I did betray the government, what do you think is the greater betrayal? We the people put you there, and we are the ones you are betraying. Your office was not yours by beneficiary and your father gave it to you. The people gave it to us and we have let the people down… I had one vote… Any vote against the government would've meant that was the last vote I would've had," he said, while emphasising that his actions were in line with the benefit of the people of the country.
In closing, Persaud said that he has no regrets removing a government he worked hard to put into office.  
Around the Web