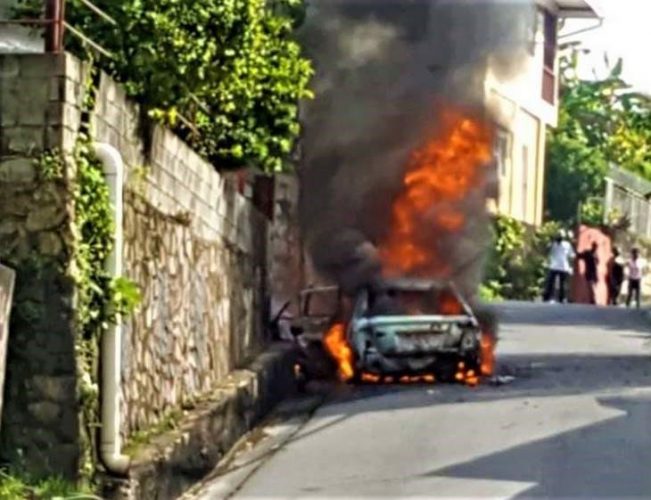 (Trinidad Express) Police were yesterday on the scene of the country's latest atrocity – a schoolboy and an adult shot and possibly burnt alive along Pelican Extension, Morvant.
Officers were called to the scene at around 3p.m. to find the gutted shell a car, a gold coloured Almera.
Initial reports are that the car was being operated as a "PH" taxi and the driver had the schoolboy as a front seat passenger.
The car was travelling along the road when two men opened fire on the vehicle.
When the car stopped, the men walked up to the vehicle and began shooting again. The car burst into flames and the killers ran. Police said that the driver, Devon Hernandez, was the possible target. His remains were found in the driver's seat. The schoolboy appeared to have tried escaping the vehicle. Gory photographs from the scene show his burnt body hanging from the vehicle.
There have been multiple murders at Pelican Extension over the years, with the most recent being in December 2017, when two men were shot dead along a track in the area.
Comments

SANTIAGO, (Reuters) – Pope Francis publicly expressed "pain and shame" yesterday over the rape and molestation of children by priests in Chile and later listened, prayed and cried at a private meeting with victims.
CARACAS,  (Reuters) – Rogue Venezuelan helicopter pilot Oscar Perez was killed in a police operation on Monday along with six other anti-government militants, the interior minister said yesterday, spurring opposition complaints of human rights violations.

(Trinidad Express) An Arima man was shot dead in his home on Monday night.

CARACAS, (Reuters) – Venezuelan authorities yesterday arrested five members of a "terrorist cell" linked to self-proclaimed rogue Venezuelan helicopter pilot Oscar Perez, and killed several other militants during a shootout in a poor area outside Caracas.
BRUSSELS, (Reuters) – European Union officials have proposed removing eight jurisdictions from the blacklist of tax havens the bloc adopted in December, in what critics may see as a blow to its campaign against tax avoidance.