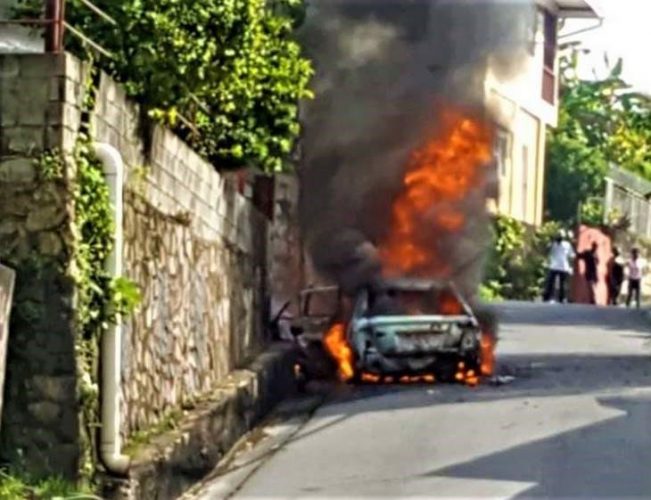 (Trinidad Express) Police were yesterday on the scene of the country's latest atrocity – a schoolboy and an adult shot and possibly burnt alive along Pelican Extension, Morvant.
Officers were called to the scene at around 3p.m. to find the gutted shell a car, a gold coloured Almera.
Initial reports are that the car was being operated as a "PH" taxi and the driver had the schoolboy as a front seat passenger.
The car was travelling along the road when two men opened fire on the vehicle.
When the car stopped, the men walked up to the vehicle and began shooting again. The car burst into flames and the killers ran. Police said that the driver, Devon Hernandez, was the possible target. His remains were found in the driver's seat. The schoolboy appeared to have tried escaping the vehicle. Gory photographs from the scene show his burnt body hanging from the vehicle.
There have been multiple murders at Pelican Extension over the years, with the most recent being in December 2017, when two men were shot dead along a track in the area.
Comments

(Trinidad Guardian) A domestic dispute yesterday turned deadly for a 27-year-old woman, after she was stabbed in the neck by her lover in broad daylight at the Croisee in San Juan.

LIMA,  (Reuters) – Peru's center-right President Pedro Pablo Kuczynski announced his resignation yesterday after a vote-buying allegations ensnared him in a fresh scandal on the eve of an impeachment vote, capping months of political turmoil in one of Latin America's most stable economies.
CARACAS/BEIJING,  (Reuters) – China is likely to extend an agreement providing crisis-stricken Venezuela with favourable loans repayment terms but will not lend fresh funds to President Nicolas Maduro's government, according to sources in Caracas and Beijing familiar with the situation.

(Trinidad Express) The woman beaten to death with a brick in Mayaro on Monday night was eight months pregnant.
CARACAS, (Reuters) – Opposition presidential candidate Henri Falcon's campaign vowed yesterday to implement a $25 monthly giveaway to Venezuelans, as part of plans to dollarize the crisis-hit economy and alleviate suffering should he win the May 20 vote.