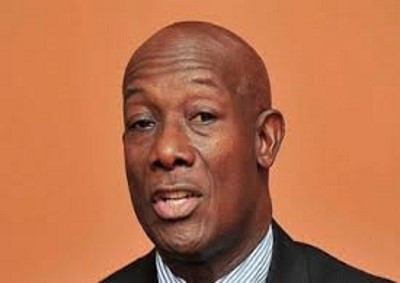 Trinidad Guardian: Prime Minister Dr Keith Rowley on Friday advised people with concerns that the Carnival terror plot had been fabricated to take up that issue with the government of Jordan.
He said so during the Eid-ul-Fitr celebrations at the San Fernando Jama Masjid in response to calls from Muslims of T&T PRO Imtiaz Mohammed for an apology.
This followed claims by Keegan Roopchand, who was detained in Jordon, that the Carnival plot was a scripted hoax he was forced by Jordanian security officials to recite.
Roopchand claimed he, his wife and children were tortured.
Rowley did not respond to Mohammed's call for an apology.
Instead, he said: "If such persons have issues with the Jordanian government I would suggest that they take it up with the Jordanian government who I am sure can speak very eloquently for themselves if they choose to deign them with a comment.
"To ask me to speak for them is out of the question.
"What I can speak for is the National Security Council of Trinidad and Tobago and I will say one thing to the wider national community, that ignorance is never a position of strength on any issue.
"When I speak to the people of Trinidad and Tobago in this job I speak with the responsibility of the office of Prime Minister and the oath of office that I have taken and I speak with the knowledge and the information of the National Security Council."
Rowley said the negative comments by some are not shared by the majority of Muslims in the country.
"What I would like to say for those of you who carry the news and the communications, it is not because negative comments are made by some that that reflects the view of the majority.
"One person speaking negatively and saying the community this and the community that is far from the reality.
"But we do have a society of freedom of expression and nobody objects to people's negative comments but we have to see it as what it represents.
"I have every confidence and I have the knowledge that the vast majority of members of the Muslim community are not reflected in those divisive comments."
Dr Rowley said a meeting of the National Security Council on Monday is not being held to discuss a list of alleged gang members circulating on the social media, or the threat of gang warfare in east Port-of-Spain.
"Monday is just another meeting. We meet on a regular basis," he said.
The Prime Minister delivered brief greetings at the Eid celebrations and thanked Maulana Mushtaq Ahmad Sulaimani for doing a very good job in "pulling together our citizens of all persuasions to appreciate our teachings and also holding out the hope for unity in Trinidad and Tobago."
Around the Web