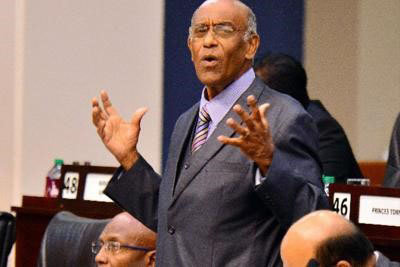 (Trinidad Express) Tabaquite MP, Surujrattan Rambachan, has revealed alarming statistics on the high number of people living in poverty in Trinidad and Tobago.
According to the Central Statistical Office, he said, 77 per cent of this country's workforce earns a monthly salary less than TT$6,000.
Rambachan said the figures were distressing and should jolt Government into dealing with the disparity in the distribution of income in this country.
He made the statement in his contribution to the debate on The Planning and Facilitation of Development (Amend-ment) Bill in Parliament last Friday.
In a telephone interview on Monday, Rambachan said, "There are more poor people in the country that we think there are. And the role of an incoming UNC government would be that they have to take an assault on poverty in the country. It is distressing that 75 per cent of people are earning under TT$6,000 a month. It shows the wide disparity between the haves and have nots."
Rambachan said it was necessary to reveal the information to show that many people are left out of the fundamental pillars of a strong democracy because they cannot own property.
"I think a home ownership democracy is very important to stability and people's sense of security and commitment to their country," he said.
The information from the Central Statistical Office, obtained by Rambachan six months ago, stated that the labour force in Trinidad and Tobago comprises 645,300. Of that amount, he said, 77 per cent were earning a salary of under TT$6,000.
Rambachan said the information he received proved that there really was a one per cent concept in Trinidad and Tobago.
He said of the 23 per cent receiving more than TT$6,000 a month, 15,293 persons earned over TT$15,000.
 "These statistics are disturbing when you consider in the service sector, like fast food outlets, they declare super profits and yet there are people who work in these enterprises paid just above the minimum wage," he said.
Rambachan said it was important that Government to provide affordable housing for citizens.
He said a person earning TT$6,000 a month would not qualify for a TT$1 million loan from the Trinidad and Tobago Mortgage Finance Company at two per cent since the instalment would total TT$3,696 per month which means a monthly income of TT$11,000 is required.
Government, he said, should partner with the private sector to provide low-income housing to citizens.
Around the Web