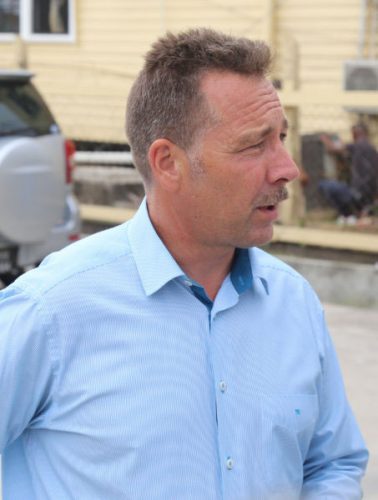 Finding a process to expedite the over 300 cases that the Special Organised Crime Unit (SOCU) is currently working on is high on its advisor Sam Sittlington's agenda as he feels the delays are an injustice to both the people at the centre of the investigations and the police conducting it.
"Those time delays are unfair to the people who are the subject and the police who are conducting those investigations," Sittlington told reporters yesterday, at a press conference to announce his return to SOCU, which was held at British High Commissioner Greg Quinn's residence.
He said that he will be meeting with the special prosecutors to "try and find a way for a process of expediting those cases to get them back to the subject and decision making, whether they will be charged as well. It is important in terms of human rights as well."
Sittlington has returned to Guyana at SOCU ….
To continue reading this article
Comments
The police say they are investigating a shooting incident which occurred about 11:20 am today at Leopold and Breda streets, Charlestown during which shop owner, Jacqueline Lagnah, 55, of 83 Leopold and Breda streets, sustained two suspected gunshot injuries to her lower back.

CARACAS/SAN CRISTOBAL, Venezuela,  (Reuters) – A wave of looting by hungry mobs across Venezuela has left streets of shuttered shops in provincial towns and pushed some store owners to arm themselves with guns and machetes, stirring fear that the turmoil could spread to the capital Caracas.

Taariq Stephens (New York Daily News photo) A Brooklyn man got a 41-year maximum prison sentence yesterday for killing a 16-year-old Guyanese girl who authorities said rejected his advances.

PRETORIA,  (Reuters) – Debutant Lungi Ngidi took six wickets as South Africa defeated India by 135 runs to claim victory in the second test in Pretoria today and also win the series with an unassailable 2-0 lead in the three-match contest.

(Trinidad Guardian) Environmental activist group Fishermen and Friends of the Sea (FFOS) has obtained an interim injunction barring the Government from continuing work on the first phase of the $400M Churchill Roosevelt Highway Extension to Manzanilla.