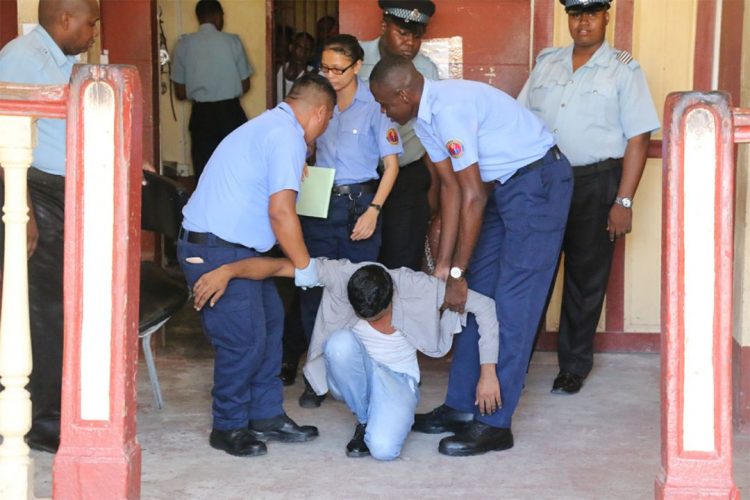 The start of the preliminary trial of the three men accused of murdering two elderly women, Constance Fraser, 89 and Phyllis Caesar, 77, in their South Road and Albert Street, Georgetown home last year, was brought to a premature end yesterday when one of the accused fainted.
Phillip Suffrien, 23, who was later rushed in an ambulance to the Georgetown Public Hospital, fainted in the courtroom of Magistrate Judy Latchman in Georgetown, where the first witness was in the midst of his testimony.
After the witness, crime scene photographer Constable Troy Henry approached the stand, Magistrate Latchman asked the three accused, Imran Khan, Stephen Andrews and Suffrien if they had any objections to him testifying in the case.
Suffrien then voiced his objection and declared his innocence. The sobbing man stated that ….
To continue reading this article
Comments

Four weeks after passing a $267 billion budget for 2018, the National Assembly will debate a supplemental provision of $1.75 billion to meet a portion of the severance pay for around 4,000 sugar workers.

Autopsies performed on the bodies of Ambrose Baharally and Martin Godette, the Pomeroon farmers who were shot dead on Sunday, have found that both men died from gunshot injuries to the head.

The ground-breaking Whistleblower Protection Bill was passed in the National Assembly last evening without amendment, although there was opposition to the formulation of a commission to act as the governing body.

The preservation of land assets is essential to the creation of a green state and a good life for future generations, President David Granger said yesterday at the launch of a US$15M Sustainable Land Development and Management Project.

Contending that the previous administration failed to find sustainable ways to restructure the security sector and identify the root causes of crime, President David Granger yesterday said that government's determination to resuscitate the UK Security Sector Reform Action Plan (SSRP) is part of its efforts to take corrective action.