Buses operating in hinterland regions will soon be exempted from licence fees.
Once the Motor Vehicles and Road Traffic (Amendment) Bill 2017, which was passed on Wednesday night by the National Assembly, is enacted, motor buses which operate in Region One (Barima-Waini), Region Seven (Cuyuni-Mazaruni), Region Eight (Potaro-Siparuni) and Region Nine (Upper-Takatu-Upper Essequibo) will be exempted from the payment of licence fees.
Minister of Public Security Khemraj Ramjattan, who piloted the bill through its final stages, told the House that the government wants to "incentivise" the use of motor buses in the areas by giving them the exemption.
In addition, the bill will also see the classification of excavators, bulldozers, mechanically propelled cranes, compressors, hoist and similar vehicles used in connection with construction as motor vehicles in their weight category for the purposes of being registered.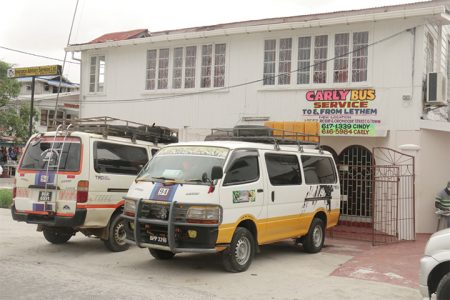 Ramjattan pointed out that heavy duty vehicles that are being brought into the country are being registered for agricultural uses but are being used for different purposes. "So we want to get rid of that distinction and to ensure that once in the interior, if they are going to be for any purpose of construction, they must be treated for that purpose and be registered under the Act," he pointed out.
"We have been finding also that some bulldozers that are in interior locations, with airstrip making, they are not registered. We want all of the equipment to be registered and we will know the owners, so we can have even further identification of ownership of them," Ramjattan said.
There were rebuttals from PPP/C Members of Parliament Joe Hamilton and Pauline Sukhai but the amendment bill was passed by the government majority.
Comments

MELBOURNE, (Reuters) – The Australian team do not need to make wholesale changes to their cricket culture as a few tweaks should once again endear them to home fans, according to test captain Tim Paine.

(Barbados Nation) Three Caribbean airlines have formed an alliance which promises to make it easier and cheaper for travellers to move between 32 countries.

To guard its independence and neutrality from political interference the National Toshaos Council (NTC) has developed a political neutrality statement that was adopted by the executive during its just-concluded executive meeting, says its Vice-Chairman Lenox Shuman.

The Police Office of Professional Responsibi-lity (OPR) has launched an investigation into a report of "seemingly massive irregularities" in the Guyana Police Force's learner driver's theoretical examination last Thursday at the Felix Austin Police College, Georgetown.