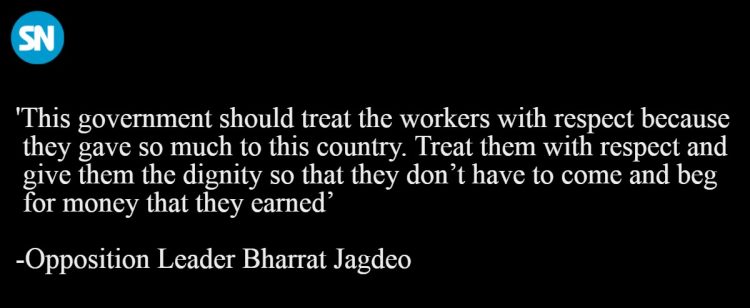 The People's Progressive Party (PPP) will offer free legal services to any of the former 4,763 former GuySuCo workers wishing to challenge the government over the planned two-stage payment of severance to them, according to its General Secretary Bharrat Jagdeo.
"The PPP will pay the legal bills for all of the sugar workers that want to challenge it in the court… It is illegal and this government treats the whole issue of their severance monies they earned as something dependent on their goodwill," Jagdeo, also Opposition Leader,  told a press conference yesterday at his Church Street office.
"Our attorneys will offer pro bono services, the party lawyers won't charge but we might still have to bring in others," he stated.
Jagdeo's statement came prior to an announcement later in the day by government that redundant workers whose severance was below $500,000 would receive payment in full by the end of this month. Jagdeo's statement also preceded a meeting between the APNU+AFC government and the two sugar unions, GAWU and NAACIE, on the way forward for the industry.
The sugar workers were given letters by the Guyana Sugar Corporation (GuySuCo), which terminated their services as of December 31st, 2017. The workers are yet to receive severance. This triggered protests, which led to President David Granger announcing that severance would be paid in two parts: half by the end of this month and the remaining 50% in the second half of this year.
Holding firm that government was both breaking the law by not paying the severance altogether and also being spiteful as it has the wherewithal to pay all monies now, Jagdeo called on the APNU+AFC government to use the US$18 million signature bonus from ExxonMobil to pay its debts. The government had said that the US$18 million was intended to pay legal fees associated with the Guyana-Venezuela border controversy. Jagdeo said that given the fact that the sugar workers do not know when they are going to receive the next installment, as "later in the year" was vague, the government's decision must "clearly be challenged."
The Opposition Leader  reasoned that because there is no guarantee that the Venezuela border controversy  will head to the International Court of Justice (ICJ), in addition to their being no timeframe given for United Nations Secretary General Antonio Guterres' ruling, the monies could be used and if needed his party would "wholeheartedly support whatever was needed for legal fees."
"They have US$18 million sitting outside of the Consolidated Fund that belongs in revenue. That is GY$4 billion alone sitting there. You don't need to keep it there because we are not even sure we will be referred to the ICJ. And if we are referred there, we can use (the) appropriation (mechanism) to pay the legal bill.  Four billion dollars just sitting in an account that this government refuses to transfer into the Consolidated Fund…," he said.
"That is four billion just there. Any amount [for the ICJ], we would support it. We said to this government, 'if you need a hundred million US dollars to fight our case at ICJ against Venezuela the PPP will support.' They can come and say we need US$50 million and we would support it. So you don't need to keep money outside of the Consolidated Fund," he added.
Jagdeo said that he believes that government can afford the severance without having to cut back on any major expenses but noted that there are some areas he has seen increases that could contribute to getting the sugar workers' severance.
"Do they have to cut anything to get this $5 billion? The answer is no. Borrowing increased 235% last year over the previous year, they are also collecting $56 billion more this year than we did in 2014. The government knew that four thousand plus letters of termination were issued before the end of the year. They knew it before the appropriation bill had been passed, yet they refused to make provisions for the severance and now today we have to correct an act of incompetence in Parliament. On their dietary supplies alone food has increased by $1.6B …I can go on and on," he said.
"This government should treat the workers with respect because they gave so much to this country. Treat them with respect and give them the dignity so that they don't have to come and beg for money that they earned.  We can save $600 million more in security if we went back to our level of security. That is where the money is going.  They are fat fowling themselves," he added.
Jagdeo opined that by not giving all the monies at once the sugar workers and unions would be inclined to beg and it was a form of control the government is using to its advantage. "This is one way of making the sugar workers beg. This is a control mechanism, where 'Oh we are in power now so you have to run to us all the time.' They must go to beg him for something. It is control and humiliating the sugar workers…. now they have to go and beg or fight in the court. On every single ground, they are acting illegally. They have the money. They fudge the numbers to make it look worse and to blame the PPP for this," he said.
Jagdeo said that the PPP/C is looking to ensure that other promises to the sugar workers are kept. "We want more money spent on training of sugar workers, we want the land to be offered now, we want to ensure there is more money to the sugar workers, we want their severance now and calculated correctly," he stressed.
Comments

(Trinidad Guardian)  "Dwight, I forgive you." So stated reigning Chutney Soca Monarch Neval Chatelal in an open letter to former T&T and Manchester United striker Dwight Yorke yesterday, following the repayment of a $250,000 loan.

The controversial Production Sharing Agreement (PSA) signed between the government and ExxonMobil's local subsidiary and partners is final and will not be subject to any changes, Minister of State Joseph Harmon said yesterday.

General Manager Holly Greaves yesterday said the National Insurance Scheme (NIS) is re-examining its investment in the Berbice Bridge after dismal returns over the past few years.
A gunman yesterday afternoon shot and robbed a senior CARICOM Secreta-riat employee after he left the Republic Bank (Guyana) Limited branch at Triumph, East Coast Demerara (ECD), in what is the most recent attack on the bank's customers.
As Guyana celebrates 48 years as a Republic, President David Granger has reiterated his government's intention to take the Venezuelan border controversy to the World Court and declared each citizen a protector of the nation's sovereignty.