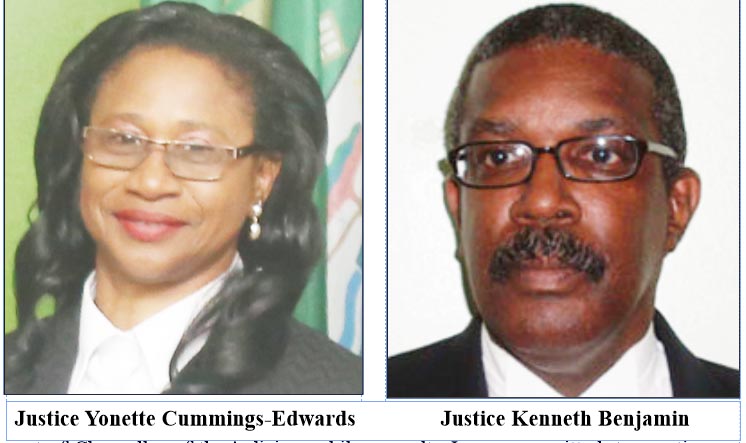 Opposition Leader Bharrat Jagdeo after weeks of deliberation yesterday relayed his disapproval to President David Granger of the latter's nominees for Chancellor of the Judiciary and Chief Justice.
In a letter to President Granger, Jagdeo said that after undertaking the requisite due diligence he could not support the appointment of Justice Kenneth Benjamin as Chancellor of the Judiciary or Justice Yonette Cummings-Edwards as Chief Justice.
Jagdeo's office released the letter yesterday after the Ministry of the Presidency posted a photo on its Facebook page of the President and Ministers Joseph Harmon and Basil Williams while  stating that the Opposition Leader had been a no-show at a scheduled meeting.  The Opposition Leader's office later released a statement saying that he had gotten no information  from the government confirming a meeting for yesterday and had therefore dispatched letters to Granger.  The Opposition Leader's office said that ….
To continue reading this article
Comments

(Trinidad Guardian) Former T&T and Manchester United footballer Dwight Yorke yesterday denied he entered into any contract with Chutney Monarch Neval Chatelal to loan him money to pay off a debt following his Island Vibe fete last year.

For the limited reopening of the Skeldon and Enmore sugar estates next month, government is in the process of borrowing some $10B to 15B from local commercial banks here, Minister of Finance Winston Jordan says.

A 38-year-old electrical contractor narrowly escaped death yesterday after he was shot and robbed of $600,000 by two motorcycle bandits who trailed him from a bank before cornering him at his Enmore, East Coast Demerara (ECD) worksite.
Guyana has registered its highest score on the Transparency International (TI) Corruption Index Report but even with a mark of 38 and ranking at 91 out of 180 countries it is still viewed as a very corrupt country.
Guyana's appeal over the constitutionality of presidential term limits will now be heard on March 12 by the Caribbean Court of Justice (CCJ), according to the Trinidad-based court's schedule of sittings.