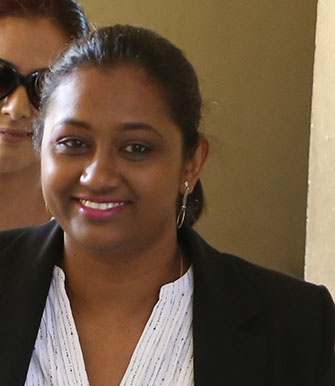 City Magistrate Leron Daly yesterday exhorted Special Organised Crime Unit (SOCU) prosecutor Michael Somersall to make a promised disclosure from a forensic audit report so that a decision could be made on proceeding in the fraud matters brought against members of the Guyana Rice Development Board (GRDB).
The call was made after attorneys Anil Nandlall and Glenn Hanoman, who are representing Prema Roopnarine, former Deputy Permanent Secretary for the Ministry of Agriculture, Madanlall Ramraj, agricultural consultant; Jagnarine Singh, former GRDB General Manager and Nigel Dharamlall, a PPP/C MP, voiced their frustration over the situation.
Nandlall, who previously stated that the prosecutor was not adequately disclosing to the defence information relating to the forensic audit report, made an application for the matter to either be dismissed, permanently stayed by the magistrate or that the matter be adjourned, to settle the issue…..
To continue reading this article
Comments

Under the agreement the APNU+AFC government signed with Tullow Guyana B.V. and Eco (Atlantic) Oil and Gas Incorporated, Guyana will receive a 1% royalty and a greater share of profits with increased production.
When the late president Janet Jagan's government awarded 600 offshore blocks to Esso Exploration and Production Guyana Limited (EEPGL) in 1999, a key factor was the then government's interest in attracting big name American investors who would help fend off Venezuela's decades-old claim to the Essequibo region, sources say.

Saying that Demerara Distillers Limited (DDL) is willing to negotiate the purchase of the Enmore Estate, Minister of Public Security Khemraj Ramjattan yesterday told a meeting at Adelphi Village, East Canje Berbice that government will ensure that each estate that is being divested is sold for the best price.

Former Georgetown Mayor and popular florist Compton Young died in hospital last Thursday and he is being remembered for his generosity and his dedicated efforts to ensuring that the city was kept clean.

Over a dozen of the residents displaced by the Mashramani Day fire at Victoria Road, Plaisance, East Coast of Demerara, are seeking the government's assistance to return to their normal lives.