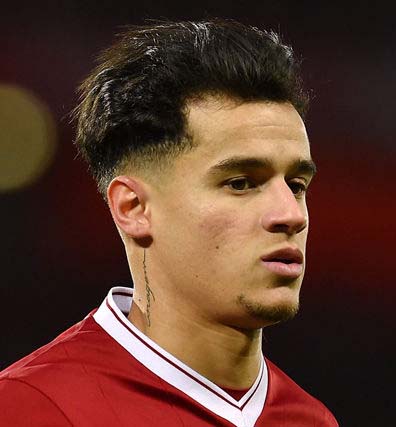 BARCELONA, (Reuters) – Barcelona's capture of Philippe Coutinho from Liverpool will have only marginal impacts on the team's objectives this season but is a major statement in their aim to remain a global soccer superpower which had been bruised by the departure of Neymar.
British media reports say the La Liga leaders will pay around 142 million pounds ($193 million) for Coutinho, making him the third most expensive transfer ever after Neymar and Kylian Mbappe, both at Paris St Germain, and ahead of new Barca team mate Ousmane Dembele.
Coutinho's renowned pace and ability to pick out key passes on the break will give an extra edge to a Barca side which has proved highly functional under Ernesto Valverde but has lacked the sparkle of their former Brazilian forward, and has been over-reliant on the enduring brilliance of Lionel Messi.
Coutinho, who like Neymar is 25, will pick up the baton of rejuvenating Valverde's ageing squad, with serial winners Gerard Pique, Andres Iniesta, Sergio Busquets and Messi all either over or approaching the age of 30.
Barca enjoy a six-point lead at the top of the league standings which they can extend to nine by beating Levante on Sunday, although Coutinho should make them even more formidable in attack and ensure they stay on track for a 25th Liga title.
The Brazil international's appearances for Liver-pool in the Champions League mean he cannot play again in Europe's elite competition this season. However, his arrival will allow Valverde to rest his other top attacking players in league games to keep them sharper for the big European ties.
Coutinho hit 20 goals in his last 41 league games for Liverpool so he should take some of the responsibility for scoring from Messi, while his expertise in long range strikes could also could prove useful when teams sit back against Barca.
The Brazilian enjoyed a strong relationship on and off the pitch with Luis Suarez at Liverpool and his arrival should propel the Uruguayan, who has struggled at times this season without the space Neymar's flair used to free up for him.
Coutinho's arrival may have a negative impact on captain Iniesta, who at 33 is in the final stages of his career at the elite level and is often the first player to be substituted by Valverde.
The Spain international, however, said last month he would welcome the Brazilian to the Nou Camp with open arms.
"I think he's a player who combines very well with others, he has a lot of talent, he is both footed, he scores goals and can drift between midfield and attack," he told Mundo Deportivo.
"He's a player that has a similar profile to Barca and would be a great signing if he comes here in the end. I don't view him as competition for my place, I see him as a leap forward for the club."
Around the Web