For the third time in as many years, Dave West Indian has come on board with the Guyana Cricket Board (GCB) to sponsor their Under-15 tournament.
The tournament, which was officially launched yesterday in the boardroom of the GCB's Regent Road, Bourda location, signals a commitment to the development of the sport at the junior level.
Marketing Manager of the GCB, Raj Singh, who chaired the occasion, thanked the sponsors for their stalwart contribution (which this year signals an increase from previous years) to the tournament.
Speaking to the young prospects, Singh urged them to eat healthy and maintain a positive lifestyle as they strive to reach the first class and international levels.
Thereafter, acting President of the GCB, Fizul Bacchus, thanked the sponsors on behalf of the GCB for renewing the sponsorship in 2018.
According to Bacchus, their contribution goes a long way. He said that the GCB was not only pleased that with their contributions, but said that the cricketers have the opportunity to receive branded uniforms throughout the tournament. He wished the company all the best with their business and encouraged individuals to support Dave West Indian Imports as they continue to give back to the youth of Guyana.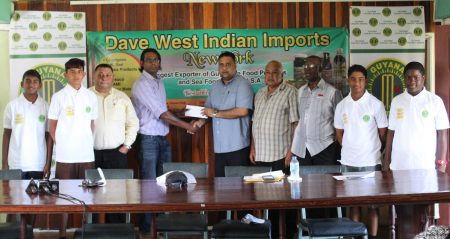 Representing Dave's West Indian Imports, Amar Ramraj offered a brief thank you remark on behalf of the company and its owner, Dave Narine, who was absent.
Ramras wished the players all the best and said that the company was looking forward to continuously supporting not only the tournament but youngsters across Guyana.
The Under-15 tournament is scheduled to commence February 4 and will run until February 10.
Games will be played at the Lusignan, Georgetown Cricket Club, Everest and Tuschen Grounds and will be played amongst the Demerara, Essequibo, Berbice and President's XI teams.
Around the Web