Three-time defending champion Chase Academy got their title defence off to the perfect start after they mauled Carmel Secondary 11-0, when the 6th edition of the Milo U18 Secondary Schools Football Championship, commenced yesterday.
Played at the Ministry of Education Ground, Carifesta Avenue, three players netted two goals each.
Malachi Adonis netted twice in the 22nd and 24th minute, Jermaine Garett tallied a brace in the second and 49th minute and Stephan Rudd scored his double in the 42nd and 65th minute.
Adding to score were Rondel Peters, Nicholas McArthur, Isiah Jack, Kevin Padmore and Marcus Wilson in the 21st, 29th, 52nd, 62nd and 64th minute respectively.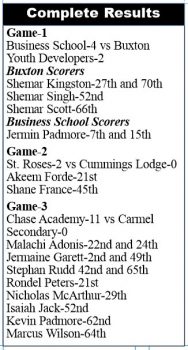 In other results, Buxton Youth Developers defeated Business School 4-2. Shemar Kingston tallied a double in the 27th and 70th minute while his namesakes Shemar Singh and Shemar Scott, scored in the 52nd and 66th minute each.
For the losing team, Jermin Padmore scored twice in the seventh and 17th minute.
In other results, St. Rose's High defeated Cummings Lodge 2-0.
Akeem Forde and Shane France netted in the 21st and 45th minute respectively. The event continues today at the same venue with another tripleheader.
Around the Web