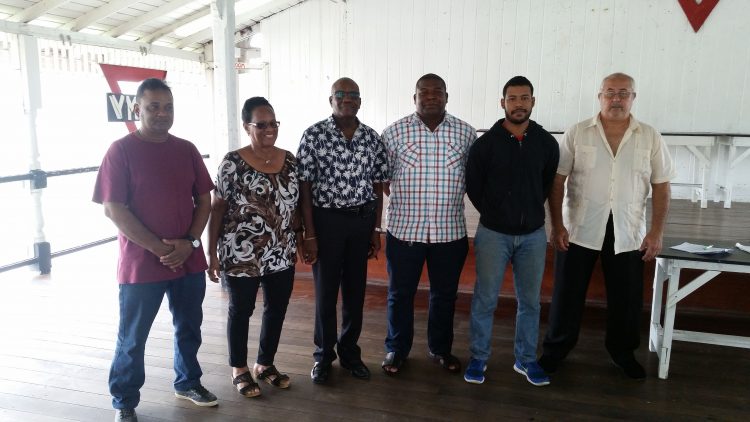 When the Guyana Karate Federation held their elections during their Biennial General Meeting on Sunday at the Young Men's Christian Association (YMCA), Thomas Lands, Amir Khouri was returned to the helm of the organization.
Honourable member of the Guyana Olympic Association, Ivor O'Brian served in the capacity as Returning Officer for the elections which saw Roger Peroune elected as first vice President, Keith Beaton as second vice president, Bernice Irving as Secretary, William Grant as Treasurer and Bhagwandin Persaud as Assistant Secretary/treasurer.
The meeting was attended by members of the various affiliated associations, including, Association do Shotokan Karate Guyana (Y.M.C.A. Dojo), Shotokan Karate-Do of Guyana (Shokoguy) (National Park Dojo), Berbice Shotokan Karate Dojo, National Martial Arts Association, National Shito-Ryu, Karate Association and 3 Ryu Karate Club.
Comments

The Leon Johnson-led Guyana Jaguars cricket team returned home yesterday following their semifinal exit on Thursday taking a lot of positives from the Cricket West Indies (CWI) Regional Super50 tournament.

National player Chelsea Edghill will not participate in the upcoming Commonwealth Games a close associate of the Guyana Table Tennis Association (GTTA) has revealed.

The Athletic Association of Guyana (AAG) has confirmed its list of athletes picked to represent the nation at the 2018 Commonwealth Games.
Some two weeks after the tournament was expected to conclude, the final of the Guyana Cricket Board (GCB)/Dave West Indian Imports Under-15 tournament 2018 is set to take place today at the Georgetown Cricket Club (GCC) Ground, Bourda, weather permitting.

Former West Indies captain, Ramnaresh Sarwan and friends have decided to sponsor two tournaments in Berbice in an effort to assist the development of the game in the Ancient County.