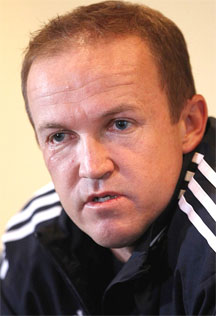 ST JOHN'S, Antigua, CMC – England Lions head Coach Andy Flower bemoaned the inability of his side's batsmen to adapt to conditions on their current tour of the Caribbean.
The Lions were swept 3-0 in their "Test" series against West Indies A, with their batsmen struggling against spin on turning pitches.
"You have to be able to learn about the opposition and solve problems out in the middle in real time," Flower told the Daily Telegraph newspaper in England. "Unfortunately, our batsmen have not been able to do this.
"We made the same type of mistakes again and again which is the most disappointing aspect of the tour."
He added: "The main purpose of this programme is to develop our players and give them these great experiences to learn the game better and develop their skill and technical game.
"The second part of it is about learning about our players to inform selection. In that regard, we know much more about our players."
Left-arm spinner Jomel Warrican was a thorn in the Lions' side, taking 31 wickets in the series at 8.96 apiece, including four hauls of five wickets or more, and claimed all three Player-of-the-Match awards on offer.
He was ably supported by burly off-spinner Rahkeem Cornwall with 19 wickets at 18.42 each and they were admittedly too much for the England batsmen to handle.
Flower said the results on the trip made an upcoming review of the Lions in April even more critical to determine if it was achieving its objectives.
"It is right to examine whether the systems and people we have in place are right," he said. "Its purpose is to bridge gap between county and international cricket.
"What we want to do is create tough young competitors, so when they get the chance to play for England, they are adding to the team's strength. It is a very important role."
Flower said one factor that the English authorities will have to examine carefully during the review is the impact of the lure of lucrative Twenty20 leagues around the World, as a few players opted to play in them rather than the Lions tours this winter to Australia and now the Caribbean.
"There is no doubt it is going to become more of an issue," he said. "The increase in number of franchise T20 tournaments and the draw of being involved in those, and earning money outside county contracts, of course that is going to compete with our programme.
"We have been dealing with instances like that over the last couple of years. At the moment, Andrew Strauss (the England Director of Cricket) wants to make decisions on an individual basis which is a mature and fair way to go about it.
"But I can only see those issues increasing over the next couple of years. Without a doubt, some players will be torn. There are more choices available these days and that is the reality of the world we live in now."
Around the Web