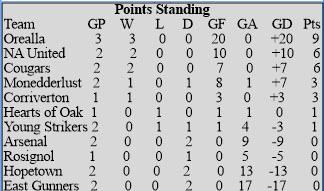 Orealla Falcons, New Amsterdam (NA) United, Monedderlust and Cougars secured lopsided wins, when the Berbice Zone in the Frank Watson Memorial U15 Football League, continued on Friday.
Hosted at the Esplanade Ground,Orealla Falcons clawed past Arsenal 6-0.
Xavier Andrews bagged a double in the sixth and 49th minute, while Brett Farius, Rayon Peneux, Shano Edwards and Carlton Edwards, scored in the 25th, 34th, 57th and 59th minute each.
Orealla then defeated Rosignol United 5-0 in the final fixture of the matchday. Daniel Alexander scored twice in the 19th and 47th minute, while Shano Edwards, Ronaldinho Felix and Carlton Hamilton, added goals in the 40th, 44th and 48th minute apiece.
Meanwhile, New Amsterdam (NA) United crushed Hopetown United 9-0. Jamal Lyte smashed five goals in the third, fifth, 25th, 30th and 60th minute.
He was assisted by Tyrick Ogleton, who tallied a hat-trick in the 11th, 32nd and 54th minute, while Nicquan Nestor scored in the 20th minute.
Similarly, Monedderlust riddled East Bank Gunners 8-0. Michael Jordan tallied a hat-trick in the 14th, 15th and 36th, while Tyrone Delph netted three times in the 27th, 28th and 49th minute.
Adding goals in the 41st and 51st minute were Jaden Fraser and Rayon Kacy respectively.
Cougars mauled Young Strikers 3-0. Keron Hamilton recorded a hat-trick in the first, eighth and 52nd minute. The tournament continues March 10th at the same venue.
Complete Results
Game-1
Arsenal-0 vs Orealla Falcons-6
Xavier Andrews-6th and 49th
Brett Farius-25th
Rayon Peneux-34th
Shano Edwards-57th
Carlton Edwards-59th
Game-2
NA United-9 vs Hopetown United-0
Jamal Lyte-3rd, 5th, 25th, 30th and 60th
Tyrick Ogleton-11th, 32nd and 54th
Nicquan Samuels-20th
Game-3
Monedderlust-8 vs East Bank Gunners-0
Michael Jordan-14th, 15th and 36th
Tyrone Delph-27th, 28th and 49th
Jaden Fraser-41st
Rayon Kacy-51st
Game-4
Cougars-3 vs Young Strikers-0
Keron Hamilton-1st, 8th and 52nd
Game-5
Orealla Falcons-5 vs Rosignol United-0
Daniel Alexander-19th and 47th
Shano Edwards-40th
Ronaldinho Felix-44th
Carlton Hamilton-48th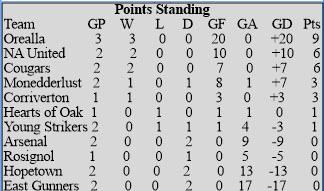 Around the Web