For many young athletes, a death or any other major tragedy can result in a colossal meltdown if the right support is not given.
But for Joshua Persaud – a budding young wicketkeeper-batsman – who recently suffered the loss of his mother, the situation, though grim, has motivated him to elevate his cricket aspirations.
Persaud, while on tour with the West Indies under – 19 team in the last ICC World Cup, got the shocking news of his mother's passing in January this year. It was a tough period for the youngster who, before his mother's passing, endured another family tragedy.
To make matters worse, Persaud had to contend with his delayed journey to New Zealand and attended the youth World Cup days after the tournament bowled off.
In Guyanese proverbs, it poured, as it rained on the youngsters' fledging career.
Through it all, he remained positive and found solace in the sport he loves, as he held on to the philosophy that 'tough times don't last, tough people do.'
"Well it was a shock knowing that my mother wasn't even sick; it was the worse feeling ever when I received the news," the youngster told Stabroek Sport in an exclusive interview yesterday.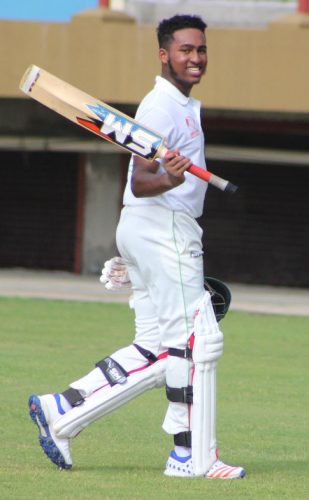 After learning of his mother's passing, the 18-year-old immediately returned home to selflessly lend support to his younger brother and other family members and in the process, relinquished his dream of playing a World Cup fixture.
"I'm really disappointed because I've always dreamt about playing in the World Cup and to go all the way there and not get to play, that was sad."
He, however, confirmed that the decision to return was entirely his, even as there was a possibility of him remaining with the team.
"Yes, there was a possibility of me staying but I asked to leave because I didn't want to play sad and when I received the news I was really down so I asked to leave," the young man told Stabroek Sport.
MOVING ON
A few weeks later, Persaud seems to be getting on with life as he continues to wear his infectious smirk on the field as he refuses to buckle to life's troubles.
"I'm smiling now because I'm a cricketer and I try my best not to go to cricket feeling down or sad because I love the game and want to do well," he said.
He recently made a huge career call in leaving his former club GNIC to take his talents to the home of legends, the Demerara Cricket Club (DCC).
The move, he explained, was purely cricket related and solely hinged on developing his game.
"It was my call to move to DCC because I think that it would better my cricket."
Quizzed on whether he harbours any concerns concerning playing second fiddle to the incumbent Tevin Imlach, who is also a former West Indies under – 19 wicket keeper, Persaud candidly shrugged it off and pointed to the central reason he made the journey to the Queenstown club.
"No, I'm not worried about that. I think I'm around people now that give everyone a fair opportunity especially the captain Christopher Barnwell."
He indicated that DCC's environment is not new to him since prior to the move, he frequented the club.
Persaud, during the last weekend, made his debut for his new club and showed that he was right at home by smashing his maiden first-division century.
He blasted the Police Sports club for 15 sixes and seven fours in an unbeaten knock of 150, proving that he is indeed, one tough guy.
Around the Web