HARARE, Zimbabwe, CMC – Rookie West Indies batsman Shimron Hetmyer was understandably thrilled after notching his maiden One-Day International hundred but said it was batting with superstar Chris Gayle that had fulfilled one of his childhood dreams.
The 21-year-old Hetmyer top-scored with 127 while fellow left-hander Gayle pummeled 123 as West Indies notched their fourth highest ODI score of 357 for four, en route to beating minnows United Arab Emirates by 60 runs in their opening match of the ICC World Cup qualifiers here yesterday.
Together, the pair added 103 runs for the second wicket, a partnership Hetmyer said he had dreamed off as a young boy growing up in Guyana.
"It was a fantastic feeling for me. I grew up from the tender age of probably five and even younger watching Chris on television and thinking of the day when I could be accompanying him at the crease," he said afterwards.
"Being there when he got his hundred was just fantastic."
Hetmyer arrived at the crease after Gayle and Evin Lewis (31) had posted 88 for the first wicket, and blossomed after a patient start to strike 14 fours and four sixes in an entertaining 93-ball knock.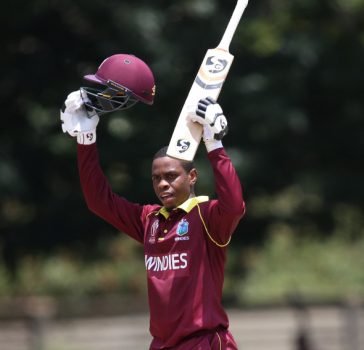 On 31 when Gayle perished in the 29th over, Hetmyer then accelerated his scoring, adding 77 for the third wicket with Marlon Samuels (15) and a further 65 for the fourth wicket with Shai Hope (35), before eventually falling in the 48th over.
Hetmyer said he had taken a simple approach to his innings, especially with focussing on hitting the ball straighter.
"I just went out to accompany Chris and try to rotate the strike as much as possible to him and at the same time trying to get myself in and I guess it worked well for me," he explained.
"I'm just working on it (playing straight) as of late, working on hitting the ball as straight as I possibly can and not trying to go across it, and I guess it worked for me today. I'll just keep working on it in the nets and getting it as perfect as possible."
The ODI was only Hetmyer's third in a fledgling career, following his debut in the 50-overs format on the ill-fated tour of New Zealand last December.
And after tasting the thrill of three figures, he said he hoped it was the start of a successful career.
"It was great actually. My first ODI hundred and one for me to remember, and I'll just try to get many more," he noted.
"The guys did well and I would just like to commend the guys. Jason (Holder) the skipper he took five today and he bowled pretty well … I guess all the guys came together and did a very fantastic job."
Around the Web