Defending champion Wendell Meusa won the men's title while Joshua Gopaul won the junior crown when the Guyana Chess Federation (GCF) Sasha Cells National Senior and Junior Championships ended last night at the National Racquet Centre on Woolford Avenue.
Meusa retained the men's crown he won in 2016 by defeating Anthony Drayton 2 – 0 in a playoffs whilst Gopaul defeated Ghansham Allijohn also by a 2-0 scored to be crowned the new junior chess champion.
Meusa and Drayton had tied in 5.5 points after Sunday's final round of the seven round Closed championships.
Present to give remarks and witness the historic event was Minister of Social Cohesion with responsibility for Youth Sport and Culture Dr. George Norton who shared his vision for a rebirth of chess in the hinterland regions and has agreed to partner with the Guyana Chess Federation to begin a pilot programme in Siparuta.
Director of Sport Christopher Jones was also on hand to present the trophies to the winners and renewed the commitment of the National Sports Commission to continue partnering with the GCF in making chess one of the prominent disciplines in Guyana.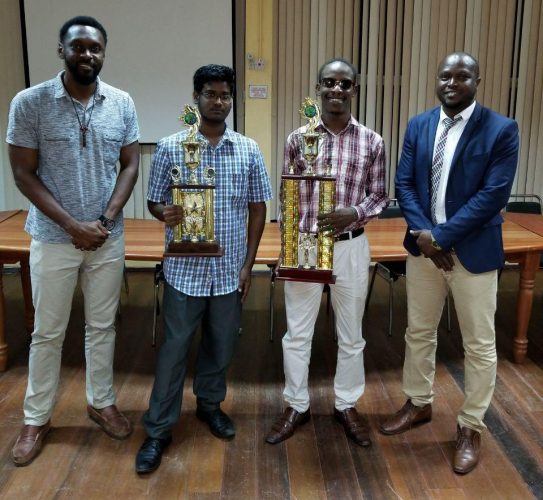 President of the GCF Attorney James Bond thanked Minister Norton and ones for their presence at the finals and their support to the executive of the GCF. He also thanked the members of the GCF for the hard work in resuscitating chess in Guyana.
The GCF President also indicated that there will be a gala event on April 28 to honor the title holders and Candidate Masters as well as Errol Tiwari whose contribution to the sport of chess has been phenomenal and sponsors Sasha Cells.
Around the Web